Expanding and Deepening Parent Engagement at E.L. Haynes Public Charter School
Teaching for Change worked with E.L. Haynes Public Charter School in Washington, D.C. in the fall of 2010 to increase and diversify parent engagement. Our work at the school is made possible with support from the D.C. Children's Youth Investment Trust Corporation, The Morris and Gwendolyn Cafritz Foundation, the Mayor's Office of Latino Affairs, and the Columbus Foundation. Volunteer Tish Ward* documented the process. Here is her report:
I watched people from a myriad of races, ethnicities and backgrounds fill the room. E.L. Haynes parents, teachers and school administrators were gathering for Tellin' Stories, a Teaching for Change community-building program designed to bring together key stakeholders to discuss and address concerns that impact the educational environment of their school.
The Story Quilting series is a distinctive aspect of Tellin' Stories that involves participants sharing a part of their personal story on a felt square. At the end of the program, the felt squares are sewn together.
Teaching for Change Parent Organizer America Calderon kicked off the evening with team-building activities to focus the group on some critical issues. Enthusiasm permeated the room, carried on through a steady stream of conversation. There was an ease with which parents interacted with each other and with the teachers and school administrators. Once the story quilting commenced, the energy in the room reached its peak. While the group busied themselves gathering for their felt squares, I walked the room, talked to parents and occasionally stopped for long moments to admire these beautiful and colorful displays.
"There's real communication here. We engage with each person here on a human level; these meetings are not superficial or just 'coffee chat'," described interracial husband-and-wife team, Shirley Thompson and Clyde Solomon when asked why they wanted to come to these meetings. Shirley points out another bonus, "If I come every week, I could learn Spanish. I love the translations." She is referring to the English-to-Spanish translations by Ms. Calderon and other school administrators.
Raj Sehgal, another E.L. Haynes Elementary parent, announced that he has yet to miss a single meeting. "There seems to be a high level of involvement among teachers in the school. These meetings are after hours, and the fact that they show up to mingle with us (parents) speak volumes."
Hiwot Eshete, from Ethiopia, heard about the Tellin' Stories program from E.L. Haynes teacher Ms. Bryant. For Hiwot, the sessions "help me to better understand the parents and the different point of views they bring to the table. Seeing us all come together every week motivates me to stay involved."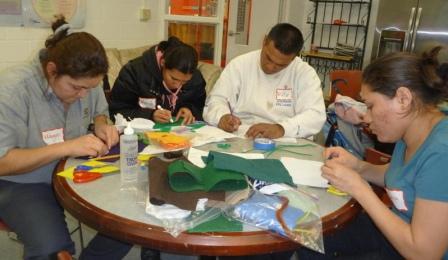 Every parent I approached was eager to talk about their quilt creations. Rogelio Valdez, proud parent of an E.L. Haynes 1st grader, expressed his love for his family and his home country, Mexico. As he held up his artwork for me to see, he described in detail what the Story Quilting series means to him, "to put your heart into something like this is very powerful. The butterflies and flowers you see here represent my daughter's love for nature, her connection and harmony with God and the beauty in the simple things she discovers all around us." Rogelio shares his daughter's nature-inspired spirit: he was a biologist in Mexico. Rogelio also recognized the role the Tellin' Stories approach played in rallying the community around a common goal. "My daughter's education matters to me. That's why it is important to stay connected through the school."
Ty'ease Setepenra, who grew up in Washington, D.C., heard about the Tellin' Stories sessions through the E.L. Haynes parent newsletter. She could not attend the first two meetings because her children had sports events on those evenings. She appreciated being able to join in easily with the third session and she enjoys the camaraderie among parents during these meetings, "I like getting to know the parents outside of the academics, getting to know their histories, their personal stories. Since my first meeting, I've noticed more laughter and more conversation between parents."
Another E.L. Haynes parent, Tomeko Graves, also heard about Tellin' Stories through the parent newsletter. Tomeko carefully explained how the tiny figures on her quilt piece represented each of her five children and their  values as a family: peace, success, purpose and love. When asked to describe her overall experience with Tellin' Stories, Tomeko said "it brings me hope to see the school show a real interest in building relationships with the parents."
The positive impact of the Story Quilting series extends far beyond parents ability to showcase their creative talents. Perhaps it is best summed up by Hiwot's response to my question of why she decided to participate in Tellin' Stories. "I do this for my child."
Beth Hood, Director of Social Work and Family Engagement at EL Haynes, described how important this series was to the school: "We have been challenged in past years with creating a truly diverse and involved parent organization where all feel connected to each other and valued. This past fall, Teaching for Change's staff, using their Tellin' Stories approach, helped us create just such a cohesive parent group. We consistently had 30+ participants over the course of a 6 week quilting session, with a great diversity of races, ethnicities, and socio-economic backgrounds. This was a first. We are looking forward to the next step, convening the working groups that formed during the quilt-making. These will further the growth of our parent-school partnership."
E.L. Haynes principal Michelle Molitor shared her reflections on the series: "I believe the power of Teaching for Change's Tellin' Stories approach lies in the relationships built among family members within the supportive environment of the school. In this dialogue, parents alongside staff develop actionable steps about what their hopes and dreams are for their students, and how they would like to be involved in achieving them. Tellin' Stories allows the community to continue to build relationships in productive ways so that if there are ever difficult situations, families feel like they have another Haynes family to rely on, or members of the staff that they know well enough to approach directly to seek help/resolution.
"Even though we are in the beginning stages, Tellin' Stories is the starting point of a truly integrated community. It is a place where difference is valued not divisive, seeking relationships and building understanding across difference. We are not relying on the superficial but instead on genuinely knowing and appreciating our racially, ethnically, linguistically, family make-up, socio-economically diverse community for who we really are."
---
* Tish Ward is a human resources professional for PricewaterhouseCoopers. She sees volunteering with Teaching for Change's Tellin' Stories Project as "a wonderful chance for me to once again contribute to the community in a meaningful way and in some small measure, advocate the importance of parents taking an active role in their children's education."