Jenice L. View Interviewed About Black History Month

"Yes, Black History Month is still relevant today," said Jenice L. View, Teaching for Change Professional Development Specialist and George Mason University Assistant Professor, during a news segment, "Black Scholars Discuss Teaching Black History," on WAMU (88.5) radio.
The segment began with the voices of students and a principal from three D.C. schools who are celebrating Black History Month. Reporter Jessica Gould then interviewed two scholars, Jenice L. View and Greg E. Carr, Chair of the Department of Afro-American Studies at Howard University. View stated that given recent historical events, there is "all the more reason to talk about the ways in which African Americans have contributed throughout the history of this country, and even before the formation of the United States. [We need to] understand that where we are in our contemporary society has roots in history, and we need to understand what that history is."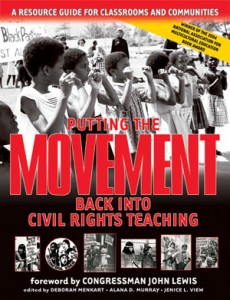 When asked what she thought about how Black History Month is typically taught, she reflected: "Unfortunately, it feeds into the way history is taught in general in this country. That there are single individuals that do things triumphantly on their own . . . There is no sense of being connected to a strategy or being connected to a larger community working to challenge injustice."
This is one of the issues that is addressed in the Teaching for Change/PRRAC publication Putting the Movement Back into Civil Rights Teaching that Jenice L. View co-edited.