Meyer Foundation Spotlights Teaching for Change's Storytelling  Efforts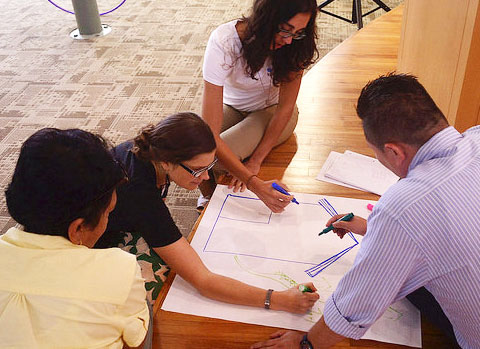 In a recently released report, the Eugene and Agnes Meyer Foundation celebrated efforts by Teaching for Change to expand the impact of our parent engagement work through storytelling. Sharing stories is an integral part of Tellin' Stories, Teaching for Change's parent engagement approach, but it had not been a core piece of the organization's communications strategy.
After attending a training series offered by the Meyer Foundation, associate director Allyson Criner Brown found ways to move the staff toward sharing compelling narratives that illustrate the value of the Tellin' Stories approach.
The Meyer Foundation highlighted:
After leading staff through a training on the fundamentals of a story, Criner Brown encouraged them to use the template to jot down details about the universal needs of their character, their body language and facial expressions, character traits that stand out, and other experiences and examples that make their stories come alive.
"Before the training, we struggled to turn the report of 'what happened' into a story," Criner Brown shared. "With the template, we emphasize that everything now has to be told from the viewpoint of one person."
Criner Brown also manages the Tellin' Stories project and staff. She was inspired to develop the storytelling template during the Stories Worth Telling workshop in April 2014.
The feature on Criner Brown appeared in a report titled, "Stories Worth Telling: A Guide to Strategic and Sustainable Nonprofit Storytelling," by Georgetown University's Center for Social Impact Communication, with support from the Meyer Foundation.
The write-up was one of four "Story Behind the Story" grantee spotlights featured in the report; it can also be read on the Foundation website as a stand-alone article.