Welcome Back Breakfast: Parents and Staff Meet and Greet
Do you remember those long evenings, seated in the auditorium at Back to School Night? Were you struggling to keep from nodding off while one school administrator after another took the stage to tell you all you need to know about the school rules and expectations? By the end of the evening, school staff and parents alike are tired and frustrated. In schools across the country, this is the first and only introduction for parents to the school community.
In Teaching for Change's work to create more meaningful school-family relations, we help schools plan welcome back activities that are interactive, joyful, and set a positive tone for the school year. Parents and staff meet and learn from each other, using hands-on, multilingual activities. Activities are scheduled at a time most parents can attend, or twice if those times vary.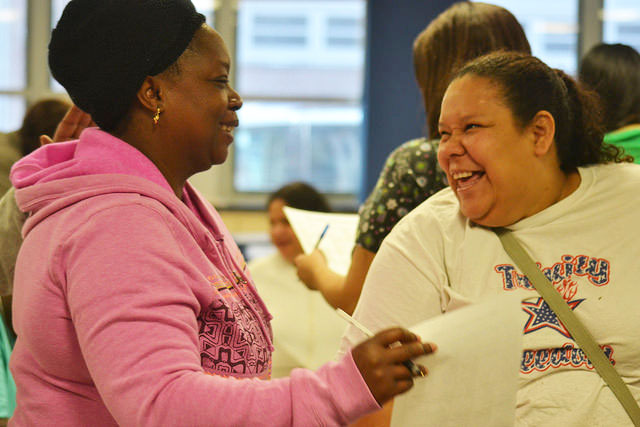 Our first-year partner school LaSalle-Backus Education Campus (DCPS) hosted a Welcome Back Breakfast for the first time ever this year, bringing parents together across race and ethnicity to build community, learn about parent engagement opportunities at the school, and connect with staff members.
As you can see from these photos of the Welcome Back Breakfast on September 17, 2014, everyone got involved and left full of energy, ideas, and more familiar with the friendly faces of fellow parents and school staff.
[embedit cf="parent-meeting-10-2014″]