D.C. Area Schools Selected for Family Partners Series
Teaching for Change is pleased to announce that six public schools from Washington, D.C. and Prince George's County, Md. were selected to participate in the Tellin' Stories Family Partners Series for the 2014–2015 school year.
Supported by a three-year grant from the W.K. Kellogg Foundation, this unique professional development and parent leadership series will work with a total of eight school communities to develop meaningful family engagement strategies.
The Tellin' Stories Family Partners Series will bring together eight school teams for training to create family engagement programs that foster effective partnerships between empowered families, their schools and communities. The ultimate goal is improving outcomes for all children.
The selected schools are: 
Brightwood Education Campus (DCPS, Ward 4)
Bruce-Monroe at Park View Elementary (DCPS, Ward 1)
LaSalle-Backus Education Campus (DCPS, Ward 4)
Mt. Rainier Elementary (PGCPS, Md.)
Powell Elementary (DCPS, Ward 4)
Tyler ES (DCPS, Ward 6)
These schools were chosen in part because of the staff available to support family engagement and the principal's support for the initiative. Two schools currently partnering with Teaching for Change, Orr Elementary (DCPS, Ward 8) and Thomson Elementary (DCPS, Ward 2), will also participate in the series.
The Tellin' Stories Family Partners Series will be based on Teaching for Change's nationally recognized and research-based approach to family engagement, called Tellin' Stories. The participating schools will form representative teams of parent coordinators, parent leaders, teachers, support staff members, and community partners that will participate in workshop sessions over the next year. The Family Partners schools will also benefit from school-based coaching, site visits, a formal evaluation, photography, and documentation.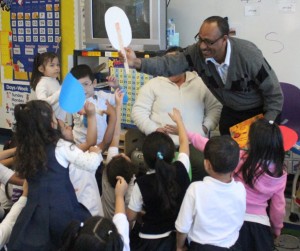 We extend thanks to all of the school applicants, the school districts, and community partners who spread the word about the Family Partners Series. Visit our website for more information about Teaching for Change's professional development offerings around family engagement.
Teaching for Change also recognizes the longtime support of the D.C. area foundations and agencies who have funded our work with parents, creating the opportunity for the W.K.K.F.-funded Tellin' Stories Family Partners Series: D.C. Children and Youth Investment Trust Corporation, The Morris and Gwendolyn Cafritz Foundation, the (D.C.) Mayor's Office on Latino Affairs, the Horning Family Fund, and an anonymous foundation.