Virginia Middle School Students Critique Lack of Diverse Books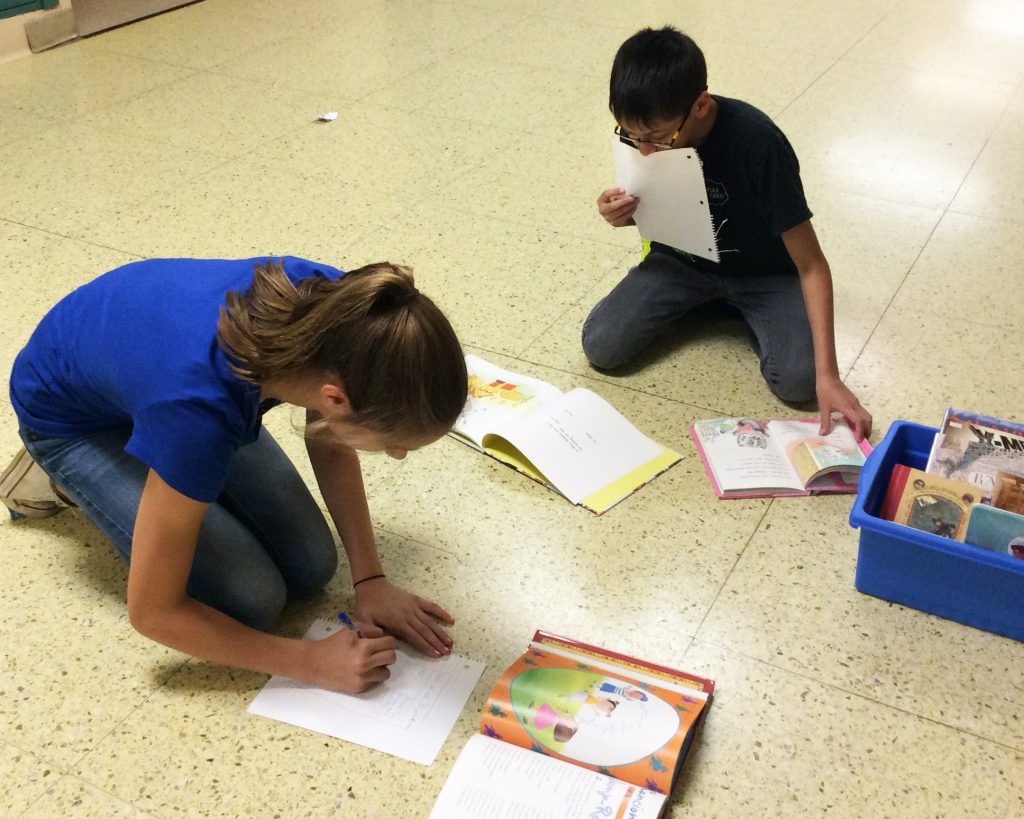 By Allison Bell
This spring my sixth and seventh grade reading students at Gunston Middle School in Arlington, Virginia researched the lack of diversity in children's and young adult books. After learning about the statistics on diversity in books and the "We Need Diverse Books" and #StepUpScholastic campaigns, students did surveys of our classroom library and a selection of sports books to see which groups of people were under-represented.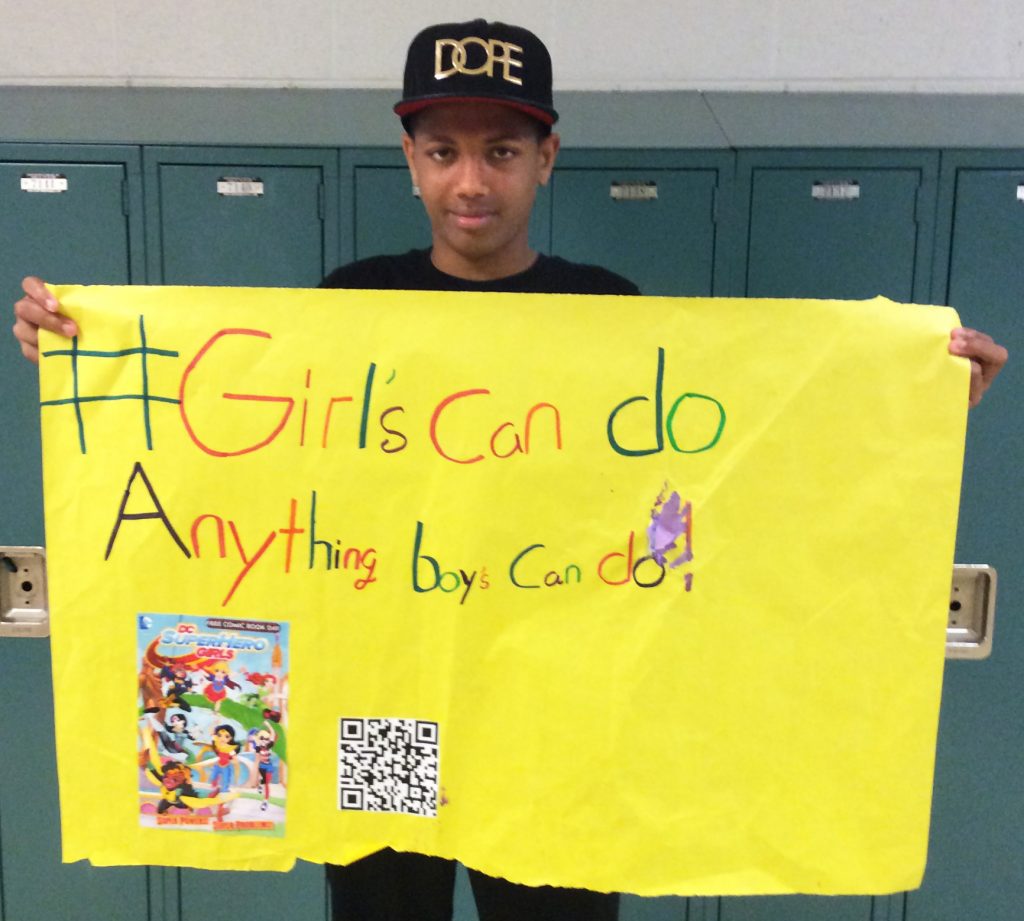 I started the sports books lesson by asking them, "Who plays sports?" and they were confused by the question, telling me "Everyone!" The students were surprised and disappointed to find that girls, people with disabilities, and people of color were under-represented in sports books.
Next, the students discussed and researched stereotypes of boys and girls, grading children's books based on whether they fought or reinforced stereotypes. Students watched "The Danger of a Single Story" and heard from guest speakers, including our instructional technology coordinator and Teaching for Change staff member Iris Jacob. They asked both of them how the problems of stereotypes and lack of diversity in books had affected them as children.
Students then chose an independent research topic. Students researched everything from how often non-traditional families appear in children's books to how diverse the "Captain Underpants" series is.
They brainstormed with our librarian, instructional technology coordinator, and minority achievement coordinator on ideas to address the problems they saw. After writing a research reflection, students designed action projects. Their projects included a bulletin board featuring diverse books, posters with QR codes that students could scan to get to websites with diverse books, T-shirts with slogans like "I am not a stereotype," videos explaining why we need diverse books, and websites collecting examples of diverse books.
Here are some reflections from the students.
I've been working on stereotypes in adventure books and seeing how people are having adventures, and mostly I found boys having adventures instead of girls, animals, or anything. — Ashif
I cared that children's books didn't have real-world problems in them because obviously the real world should be put in books but the fact that they're not is kind of upsetting to me. — Natalie
I learned that there are rarely any LGBT families in books. I had to look really hard for them, and even then it was hard to find. — Kathryn
I really learned how the world is not shown in books. It's kind of like people lie a lot in children's books. They don't show the real world. They show the fake world. To be honest, I don't really like it. I don't see me in books I read. I don't see a lot of children that are mixed. I just see a lot of white people in children's books. Maybe they think that being mixed is wrong or something like that, but I think they should show biracial people. — Isabella
My specific research was on children's books—old as in 20th century books and 21st century books which are the newer ones. I was searching for stereotypes about women staying home, taking care of the kids, doing the dishes, or doing that kind of work. I learned that this problem has gone on for a long time and it needs to be fixed. I think the problem is being addressed right now. — Christian
I learned that you have a lot more white people and I'm actually thinking that there's usually more white people in stuff, like there's usually more white kids in books. This unit actually taught me a lot and opened my eyes. I realized every single book I read when I was little actually had white characters and not other kinds of characters, like black, Hispanic, or Asian, Indian. And since it my opened my eyes, it made me realize I wanted to make a difference. And when something makes me realize something and want to do something, I stick to that as much as I can. After this unit is over, I plan to make this here and everywhere in the USA to do as much as I can. Even though I'm still a kid, I have to try. —  Alize
Not all the books in our community are diverse, and we need to do something about that. I did research about non-nuclear families and how much they appear in the animes I read. I found out that at least the ones I read, they came up pretty frequently, so that's good. Keep fighting to get more diverse books. — Francis
I learned that—when you told me about this problem, I never realized that there were not many races mentioned in books. It was mostly just a series of white people but with a different life or a different story. When I was little, I would always just be so interested in their lives, that I would even try to convince myself that I was American or white, just because I was born here. But my parents keep telling me, you're not white, this is not who you are. I would say that I was white, I was born here. My mom said well you're not. You were born here, but that doesn't mean your culture comes from here, it comes from El Salvador. And then I sort of started to realize that it was becoming true because I would always love the Hispanic foods and I would be picky with these American foods and I thought, Oh my Gosh, what I have done? I tried to make myself fake, because that's what I thought of myself, and now I feel proud of my culture because it has so many beauties and wonders. — Abigail
I learned that a lot of authors don't write a lot about stereotypes and stuff and they should so kids can feel like themselves instead of feeling like oh, this will never happen, I will never be like that person in the book. I care that they didn't have a lot girls that can be the hero. — Jordan