Fun and Learning at People's History Trivia Night
On December 2, the Zinn Education Project hosted a packed house for our first-ever People's History Trivia Night fundraiser. Everyone enjoyed themselves, while learning non-trivial people's history. The event was co-sponsored by and held at Busboys and Poets (14&V) during the National Council for the Social Studies (NCSS) conference.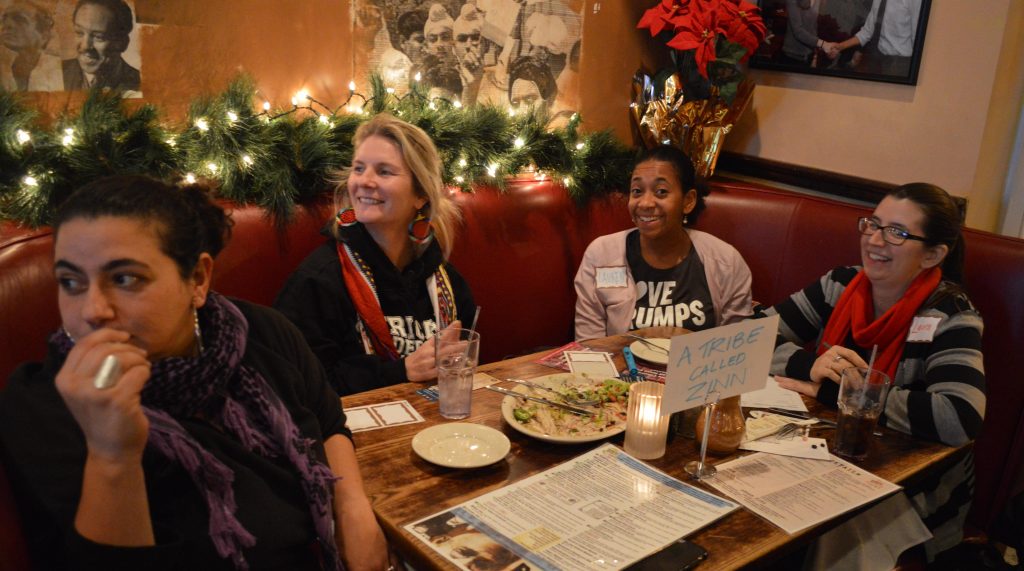 Classroom teachers and other friends of the Zinn Education Project formed teams, created team names, and responded to questions. Team names included Tribe Called Zinn, Zinnstorians, Zinnias, Trailblazers, One of Us is Not a Teacher, the Know-Nothings, and more.
There were three rounds of ten questions and a final betting round of five questions with themes including Sports, Culture, Education, and Resistance.
Test your knowledge with a few of the questions below.
Answers are at the bottom of the page.
We all know the name of Columbus, but what is the name of the Indigenous people who found him when he arrived lost on their island?
This man could do it all. He was a star football player, lawyer, actor, singer, and speaker. His speeches against racism and for labor rights inspired people around the world.
The 1912 textile strike in Lawrence, Mass., involved workers who immigrated from many different countries. The strike had another name—a name that came from a song—what was the name of that song?
What island did Native Americans occupy for 19 months in a protest that began in November of 1969?
Prizes for winners of the rounds included an appetizer from Busboys and Poets, a deluxe edition of A People's History of the United States, Howard Zinn Speaks, Hands on the Freedom Plow, Not Just a Game, and medals for the winning team.
See more photos in our Flickr album below.
Answers to questions:
Tainos
Paul Robeson
Bread and Roses
Alcatraz