Remembering Dr. Ronald Takaki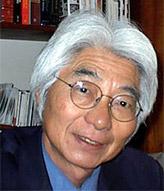 Dr. Ronald Takaki (b. 1939), esteemed people's historian, educator, and friend of Teaching for Change, died on May 26, 2009.  On March 1, 2009 Dr. Takaki came to DC. He was interviewed by CSPAN and later that day spoke at Busboys and Poets to a full house that included well-known academics Frank Wu and Larry Hajime Shinagawa. Dr. Takaki stressed the signficance of President Obama's Inaugural speech by reading and analyzing excerpts for the audience.
His books, including a new edition of A Different Mirror: A History of Multicultural America and Strangers from a Different Shore: A History of Asian Americans, have helped expand the notion of "American" and brought hidden histories to light.
At UCLA, he helped found the first ethnic studies department and later pushed UC Berkeley to create the first ethnic studies PhD program in the country. He is also remembered by many as the college professor that challenged them with the question, "How do you know what you know?"
We are honored to have had a chance to host him and bring his incisive commentary and gentle, wry personality to a DC audience. His groundbreaking work and critical perspective on U.S. history will impact generations to come.