Teaching for Change Summer 2019 Interns Blog
This blog documents the work and insights of the 2019 Teaching for Change summer interns. It is written by the interns themselves, Hannah Russell-Hunter and Raegan Loheide. There are also shorter entries by two interns working remotely this summer, Mohammed Bappe and Conner Suddick. 

Week One (June 1 – 7)
June 1
Hannah: On the morning of Saturday, June 1, members of the Anti-Bias Early Childhood Education Working Group met at the offices of Teaching for Change for the final session of the year. The working group met monthly throughout the school year to provide feedback on children's literature, support teacher growth and development, and collectively create new curricular resources. To culminate the year together, they gathered for a final workshop focused on Teaching About Family Structures and Fairness. Read more.
June 5
Hannah: I visited Alice Deal Middle School (DCPS) and sat in on Ms. Amy Trenkle's 8th grade U.S. History class. Having gone to an International Baccalaureate (IB) high school, I was curious to see how IB history was taught in a middle school setting. I sat in on Trenkle's first period of the morning where the students were presenting their final projects. The projects had to touch on the four "Advisories," or thematic groupings of content: "Time, Place, and Space" | "Systems" | "Development" |"Change." The first projects presented were a rap song, a poem, and a video. Then posters and other projects on paper were posted around the room. Students put constructive comments and feedback on post-it notes and put them on the projects or on the table of the group.
As students were reviewing each other's projects, I spoke with Trenkle about the decision to have a thematic approach to teaching history, rather than a chronological one. She said that this was the first year that the history teachers were trying it, and would use it for two more years before deciding whether or not to continue the approach. This would give Trenkle and the other teachers the opportunity to work out issues with the model and get it to its best version by the third year before making a decision.
Trenkle also showed me a project they had done earlier in the year, where the students took a field trip to the Smithsonian American Art Museums and National Portrait Gallery. There were a series of selected paintings that related to a range of topic in U.S. history, from tenements to the plight of braceros to the Charleston church shooting in 2015. Accompanying it were poems made by students inspired by the works they saw. As a Studio Art major, I really appreciated seeing how art could be easily connected to teaching history.
Although the visit was brief and I didn't have an opportunity to engage with the students because it was a presentation day, I got a lot out of observing Trenkle and the students in the class.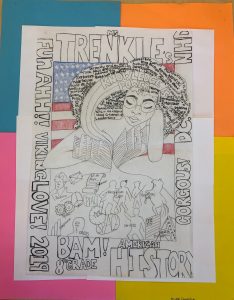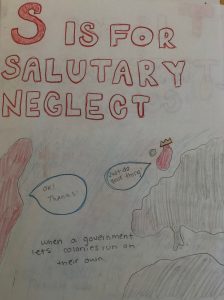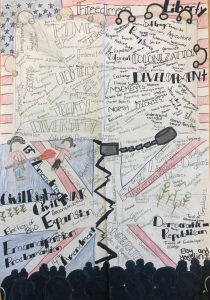 After visiting Trenkle's classroom, I took the Metro to the Library of Congress for a talk at the American Folklife Center. I got there early, which gave me time to check out the exhibit Art in Action: Herblock and Fellow Artists Respond to Their Times. There was a great range of art and subject matter, but I was particularly drawn to a piece that connected the beautiful prints of 19th-century Mexican artist Jose Guadalupe Posada to the fight against gentrification in San Francisco. There were also prints from the Amplifier project!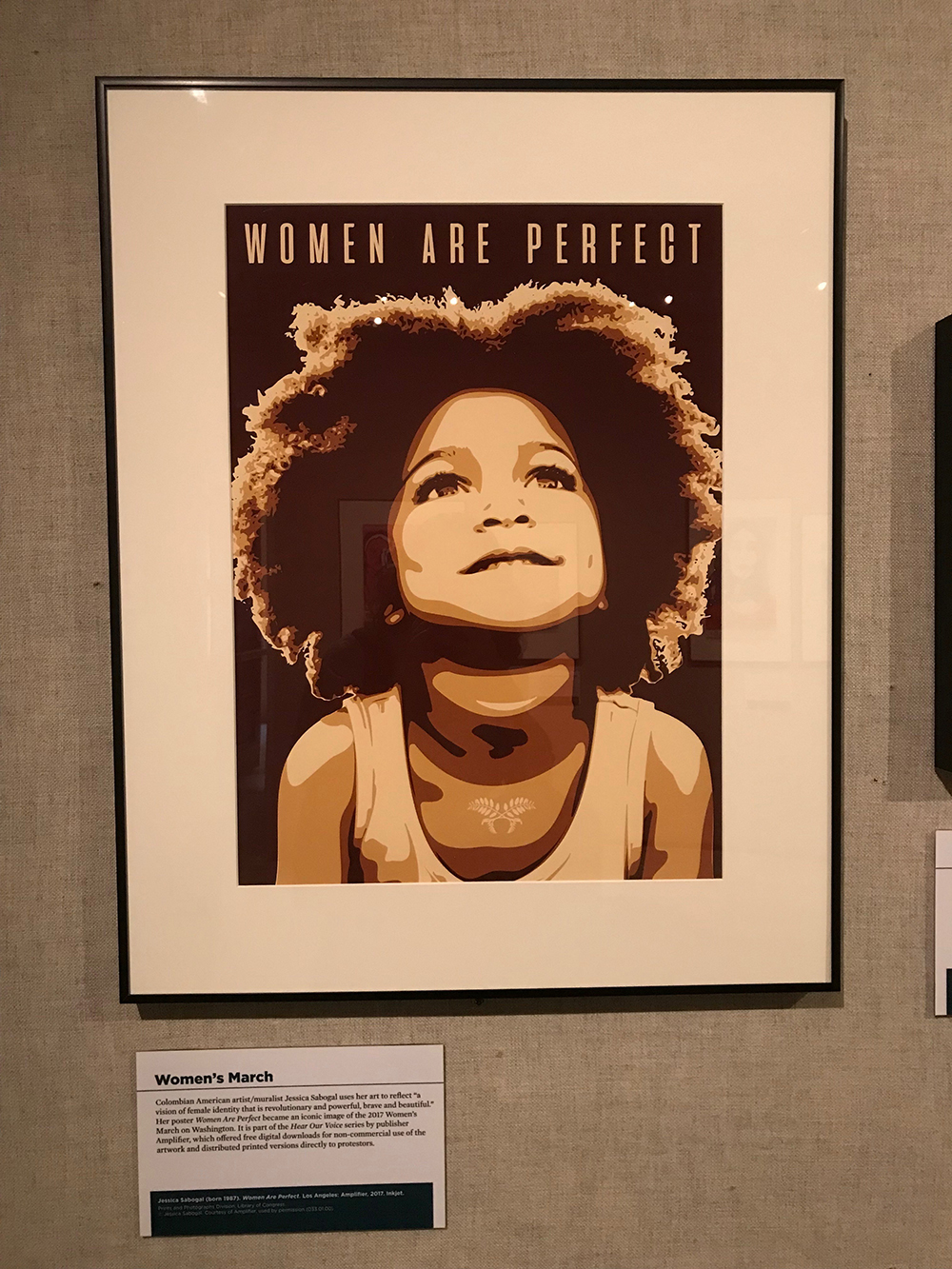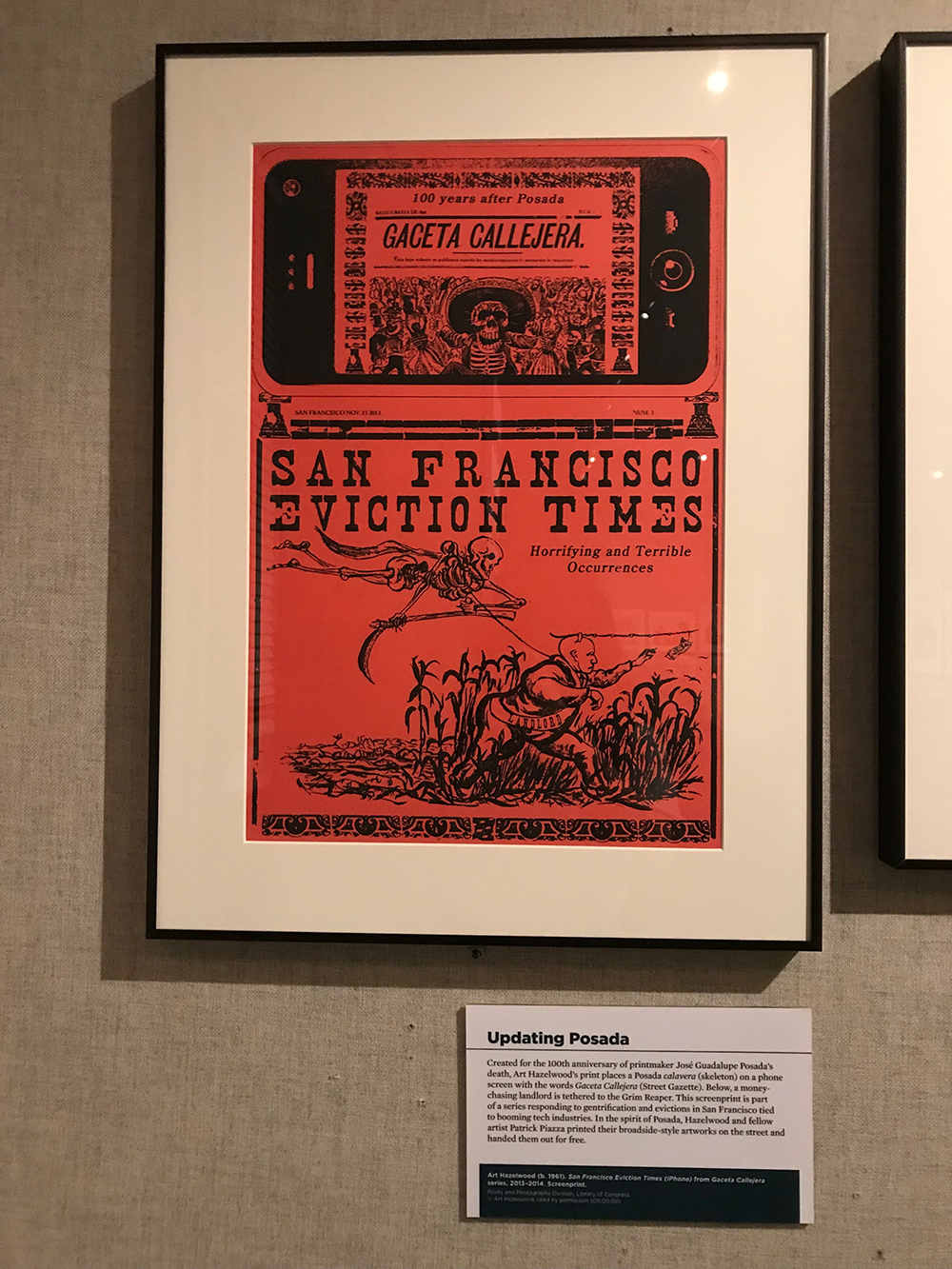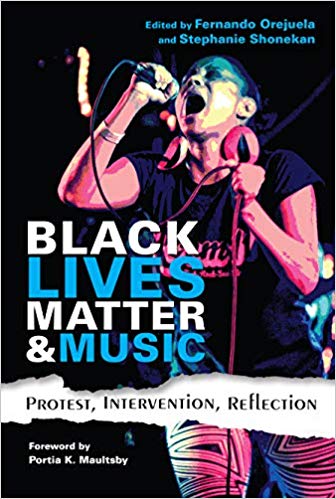 The talk I attended was called Black Lives Matter and Music: On Documenting Contemporary Culture. Dr. Fernando Orejuela, a professor at Indiana University, talked about the impact of the Black Lives Matter movement on contemporary music created after the shooting of Trayvon Martin and Mike Brown. Dr. Stephanie Shonekan at UMass-Amherst used the song "I Wish I Knew How It Would Feel To Be Free" as a through-line to study how the sentiments conveyed in the song changed based on who was singing it and how lyrics were subtly changed. The song means different things with sung by Nina Simone versus Peter Paul and Mary, for example.
Allie Martin, a postdoctoral student at the University of Indiana, gave her talk on #DontMuteDC and #Moechella, a movement that began after noise complaints led to Go-Go music that pours out of the Metro PCS store by the corner of 7th and Florida was silenced after complaints, likely from the expensive high-rise across the street. She discussed how "nuisance" is a way for white people to audibly mark a space as theirs and connected this incident to the bill that would criminalize street performers and the Police Department's "Go-Go Report" in the early 2000s. During the Q&A, she described the silencing of the Metro PCS store as a "powder keg" that has allowed people to both rally behind something that is both affirming of DC Black history and against the gentrification of the city. The talk left me thinking about how this incident, and the intentions of those who called in the complaint, have only served to intensify and unite resistance to gentrifying forces in the city and lift up activism that has been flying under the radar on for years.
Week Two (June 10 – 14)
June 10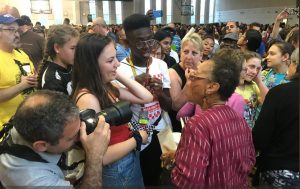 Hannah: Today I went to National History Day at the University of Maryland, College Park. This week, middle and high school students from around the country are presenting historical research projects in a variety of mediums, including performance, papers, and documentaries and compete for prizes. I decided to go see some of the performances happening that morning in the middle school category.
The first three projects I saw were on the Suffragettes, the Freedom Riders, and the construction of the Union-Pacific Rail Road. The last one performance I watched — and the one I enjoyed the most — was on the life of Katherine Johnson, an African American mathematician [featured in Hidden Figures] whose work was instrumental in the success of the Apollo 13 mission and whose contributions until recently went unrecognized. The short play was written and performed by two girls. One played Katherine Johnson and the other narrated her life, from growing up in rural West Virginia to being given a Presidential Medal of Freedom in 2015.
At the end of their performance, the two girls held hands and confidently told the audience: "As an African-American Muslim and a Mexican-American Christian, we are able to choose whatever career path we want because of women like Katherine Johnson who paved the way for us." As if that wasn't enough to impress me, I found out during the Q&A with the judges that they had gotten access to NASA records that Katherine Johnson had had a hand in writing as part of their research for the script! It was definitely a worthwhile trip.
June 11
Raegan: While settling into my first week, I had the opportunity to meet with Teaching for Board member and SNCC veteran Timothy Jenkins. He had come to the office for an orientation on updating his Wikipedia page which Teaching for Change had created. He had some primary documents that he was interested in adding, including a SNCC flyer, a poster for the film The Streets of Greenwood, and a letter to him from Dr. Martin Luther King Jr.
June 12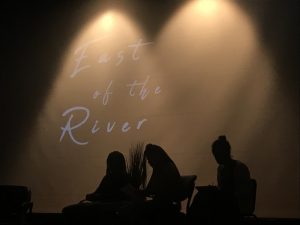 Raegan: I attended the D.C. Film Premiere at Anacostia High School of East of the River, a short film exploring school pushout. The film was a beautiful representation of what daily youth life in D.C. is like. The screening was followed by a panel with the film creator/director and cast members. The film is recommended by Essence as one of the Top 20 films to see from the 2019 Tribeca Film Festival.
I'm not a D.C. resident, so it was great to be in a different area of the city than my commuter route. Anacostia Park was featured in the film and I got a glimpse of it on the way over to the high school, so I'm excited to go back and spend some time there! It was great to visit a school, which will be harder since the school year is wrapping up, and to get to attend an event like this.
June 13
Raegan: I spent the day at the National Museum of African American History and Culture (NMAAHC). I was ecstatic that I was able to get tickets thanks to Teaching for Change, as this is a visit I have eagerly awaited since the museum opened.
I started in the history section of the museum, which takes you through the history and reality of colonization by European nations, and the exploitation of human beings as commodities. I was most interested in the descriptions of historical events in the American colonies. Events like Bacon's Rebellion and the New York Conspiracy are portrayed in a very different light in history textbooks. In the same fashion of defying history book propaganda, when entering the era of America's founding fathers and documents, you're faced with a statue of Thomas Jefferson, and behind him, bricks representing the hundreds of enslaved people he owned. Behind him, a quote from the Declaration of Independence covers the wall,
"All men are created equal… With certain unalienable rights… Whenever any form of government becomes destructive of these ends, it is the right of the people to alter or to abolish it."
The quote speaks to the reality that the Declaration of Independence only ever realized rights for white people and others in places of privilege, and for two centuries has still not been fulfilled or accessible to all Americans. Although its words may tout freedom, its writers were slaveholders, and today this disenfranchisement and oppression has just been reproduced in different forms.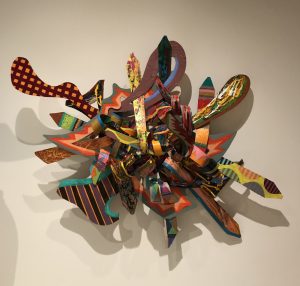 I've had significant exposure to materials about the atrocities of the prison industrial complex, but I didn't know about Angola State Penitentiary before coming across the guard tower. The prison is built on a plantation, and the cells are located on the old slave quarters. Today, the prison holds more prisoners than any other correctional facility in the US, and 75% of the inmates are African American. Prisoners are expected to die behind its walls, and spend their days working in fields for pennies an hour. Angola is not an extreme, it is an abhorrent reality of prisons across the nation. Thinking about it is chilling.
The history section continued to be exhilarating, exhausting, and thought provoking. You encounter civil rights movements and heroes across decades, organizations, speeches, and an Emmett Till memorial.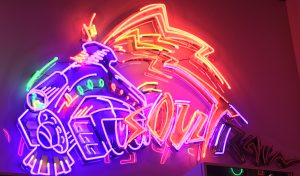 There are readings and interactives on everything from the purpose and impact of stereotypes, to the media around Black is Beautiful. The media in this section was only a sneak peak of the Culture Galleries on the top floor. I was in awe while walking through the visual arts section, and continued to be as I moved through the music section as well. I could have spent many more hours exploring this museum. I'm so grateful I had the opportunity to go, and I've been thinking about what it highlighted, things I learned, and how to share its messages with others in the days since.
Week Three (June 17 – 21)
June 18
Raegan: I attended a Profs and Pints lecture on Climate Colonialism and the Green New Deal. Professor Taiwo started his talk off by defining colonialism and putting the scope of the issue in a historical and present context. He then highlighted how the technology we have available to combat and even reverse climate change can easily disenfranchise people and nations through land grabs, resource grabs, and geoengineering. These actions would not only impose economic and development control over the global south, but would also continue the dominion of wealthy nations over these through asserting moral superiority and obstructing self determination. Taiwo asserted that the key to climate change solutions is upholding climate justice, where the cycle of exploitation is broken.
My interest was piqued at Taiwo's mention of Migration Policy as a part of a climate-justice oriented solution. He explained that as formerly colonized nations bear the brunt of climate change consequences and natural disasters, colonizers like the US and the EU must maintain open door policies to act as a refuge for the people they've put in these positions through forced migrations and creating the majority of carbon emissions. For me, this highlighted the intersectional scope of the problem where attention must be paid to individuals like farmers, who are trapped in a technological treadmill, people who are food insecure, indigenous populations, whose lands are taken and exploited, and more.
I had the chance to ask Professor Taiwo about his views on the benefits of subsidies. It sounded like more of a detrimental rather than positive consequence, if the Global North were to insert itself (yet again) to dictate sustainable development projects through the hand of aid. I was curious how this would interrupt the cycle of colonization. Taiwo explained that he envisioned the subsidies would originate at the request of a country, for example, India requesting subsidies from the EU to develop more reusable energy sources, and the EU not only is wealthier, but also has a history of colonization and owes reparations.
Hannah: Raegan and I attended a workshop for Montgomery County Public Schools for teachers and other educators on how to teach American Hate: Survivors Speak Out by Arjurn Singh Sethi, a human rights lawyer and law professor at Georgetown and Vanderbuilt. Alison Kysia, director of Teaching for Change's Challenge Islamophobia Project, guided the group through a sample lesson plan focused on an interview with Destinee Mangum and Walia Mohamed, who were targeted by a white supremacist on the Portland light rail in May of 2017, resulting in the death of two men who intervened to stop the man's tirade against them.
As a future social studies teacher, it was a very illuminating talk. Kids look to teachers as mentors, so neutrality is especially dangerous for students who are vulnerable to violence and trying to push back against it. Teachers can instead help students engage with the world and unpack news stories by sharing their honest perspectives, and encouraging students to ask questions and figure out what they think. Through this engagement and a curricular commitment, schools can proactively combat hate before it happens, rather than after the fact.
Week Four (June 24 – 28)
June 24
Raegan: Hannah and I attended a gathering of the DC Initiative on Racial Equity. The meeting was opened with songs to get some energy and security flowing through the room. We spoke about the initiative's upcoming plans and pertinent legislation. Surrounding these items were questions about community engagement and building a future that we haven't seen before.
A focus of the meeting was mobilizing around the REAR Act. The legislation was created by council members without consulting the community. The group discussed how we can't undo the racism that's in every system in the U.S., but we can get started with the REAR Act and bring the bill alive through community participation. There's a hearing on the legislation in September, and the people in the room spent time brainstorming how we can build and continue momentum through testimonies of experiences and amendments that reach beyond the organizations we were a part of.
I most appreciated the conversation on the import of bringing testimonies and voices to the table that weren't necessarily represented or accounted for in the room, although it was a diverse array of organizations from throughout the district. This triggers a focus on community organizing where members of these organizations need to dig deep into their communities to envision how this bill can be a start to a radical future, and what work still needs to be done and what ideals we envision together. I have high hopes that the Racial Equity Initiative will be grounded in the lived realities of their communities to create substantial legislative change.
Week Five (July 1 – 5)
Conner reviewed the new book for young readers, Troublemaker for Justice, which illuminates the life of civil rights activist Bayard Rustin. More reviews by Conner are in the making!
His life and legacy illustrates the value of cultivating untold stories. Rustin did not do any of his advocacy or organizing for his own personal glory. Rather, his life shows how steadfast determination, and how planting the seeds for change is more important than reaping the immediate reward.
July 2
Raegan: I attended a Close the Camps Protest in front of the White House. 
The news has been flooded with the rhetoric of using "concentration camps" to describe the conditions migrant children and parents hare being held in at the border. The reality is that children are denied basic necessities and are crowded into unsafe conditions. Children have been separated from their families, and are subject to cruel treatment that leads to lasting traumas. Some are dying in custody—or dying with parents as they cross the Rio Grande.
The community gathered at the protest called out these conditions and the funding going towards them and their intention. Children and families are being criminalized and put in inhumane conditions. It was inspiring to see us rally around the main causes to close the camps, cease funding, and reunite families, but from people's rally cries and stories it was clear that a solution includes a commitment to #neveragain, #abolishice, and more policies and actions that uplift and protect people.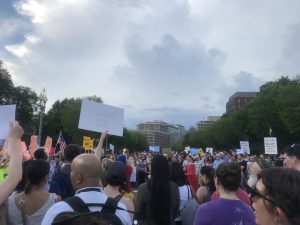 Week Six (July 8 – 12)
July 9
Hannah: Raegan and I got to see Teaching for Change staff in action at Let's Talk!, a week long annual institute for teachers hosted by the National Museum of African American History and Culture (NMAAHC).
About thirty educators gathered in a NMAAHC classroom on Tuesday morning. Teaching for Change executive director Deborah Menkart introduced a lesson from the Zinn Education Project website called "The Color Line." The lesson is by Rethinking Schools editor Bill Bigelow and focuses on laws that divided Africans, Native Americans, and poor whites during the colonial era. The teachers went downstairs to the "Slavery & Freedom" exhibit to engage in the lesson. In small groups, the teachers were given prompts to think about laws that would have been written to divide these three demographics and prevent them from associating and organizing. Teachers came up with laws that prevented mixed-race assemblies, outlawing interracial marriage, encouraging whites to capture fugitive slaves. Educators then looked at actual laws passed during the colonial era to regulate interactions between races, including a 1661 law that punished any white person that helped an enslaved person escape. Educators then had the opportunity to walk through the "Slavery & Freedom" exhibit and look for examples of resistance to oppressive laws.
The assembled educators then returned to the classroom and shared ways they could use the lesson in their classrooms. One school teacher shared that they would think about integrating aspects of this lesson into teaching Born A Crime, Trevor Noah's memoir of growing up half Black, half white in South Africa. Students in the past found it difficult to understand foreign laws, so she plans to use U.S. colonial laws as a way explain apartheid through comparison. Early childhood educators offered insights into how The Color Line inspires them to talk about higher-level concepts like laws and race in more accessible language. One educator would talk about Jim Crow with her students as "nasty laws" that separate people, even though together we are stronger. Another educator believed that the importance of sugar in international trade and its connections to slavery would be a way to introduce this history to first graders.
Next was a demonstration of another lesson from the Zinn Education Project website, "Poetry of Defiance." Educators each got a piece of paper with an example of how enslaved people resisted in a variety of ways, from slowing work to outright slave rebellions. After getting up and sharing their examples with each other, we built a poem made up of methods of resistance we had just learned about, beginning with a variation on the phrase "Write that I…" Two attendees then gave a moving reading of the assembled poem that elicited many snaps and exclamations from the group. We came together and learned, taught, and spread the truth through poetry.
July 11
Hannah: Raegan and I had the pleasure of hearing Enid Lee speak at the Thursday session of Let's Talk! at NMAAHC. Her presentation was entitled "Putting Race on the Table and Keeping it There." She began her presentation by having everyone write down what they wanted to take away from this presentation on sticky notes, and then collecting them. She explained that she was modeling how to engage everyone in the classroom and demonstrate to students that everyone's voices are being heard. We then watched a Facebook video breaking down institutional racism through the example of schools and redlining. Educators then reflected on what the video explained well and what was not. She then discussed the importance of putting race "on the table" and how to deal with potential responses.
Even though we were only able to stay for her morning session, it was still an invaluable two hours. Raegan and I found ourselves writing down Enid's most memorable quotes. Here are just a few:
Indifference kills us all… this is the time to speak up.
How to we change spaces that embrace our children as they are?
Every time you have the urge to discuss the incarceration rate, discuss the incarceration in schools, too.
The language of math is literacy for reading inequality in the world.
You are the midwives of your students' intelligence.
Student's lives should be the meat and bone of curriculum.
Race has other place holders besides color, like names and neighborhoods.
Week Seven (July 15 – 19)
July 16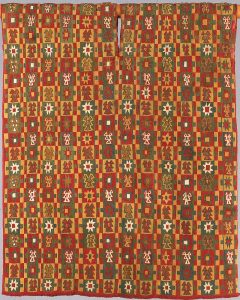 Hannah: On Tuesday, I attended a Teacher Tuesday workshop at the National Museum of the American Indian (NMAI) that focused on their exhibit "The Great Inka Road: Engineering an Empire." The workshop took the assembled group of fifteen educators through a lesson plan about how Inkan values were reflected in their building methods. We began with a spectrum activity where everyone stood along the wall according to whether or not they preferred individual or group projects. We then went to the hallway and first had to build a pyramid of solo cups, using a rubber band with string on it called a "boom whop snap." It was a collaborative process; no one was put in charge, and everyone was so invested in the pyramid that a cheer went up the final cup was successfully put in place. There was no time limit for completing the structure. 
We were then tasked with making a structure out of blocks, but this time two people were appointed to be engineers and everyone else was given a block and instructed where to put it. We had three minutes to complete the structure and got "paid" at the end, engineers got paid more. Everyone felt less invested in the structure, and stood waiting for the engineers to tell us what to do. We reflected on how these two structures were representative of Inkan values of tradition and cooperation, and American values of productivity and efficiency.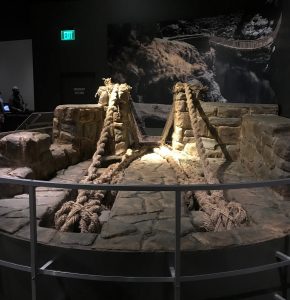 We then went into the Inka exhibit and looked at a replica of a bridge in present-day Peru that is rebuilt every year by Inka descendants using fibers of the q'oya plant, which is threatened by climate change. We watched a video of the town constructing the bridge and noticed that they weren't talking about great feats of engineering, but rather about the social and spiritual significance of the annual reconstruction, and how the bridge reflected their values. Finally, we went out into the atrium of the National Museum of the American Indian and talked about how the museum itself is a reflection of both indigenous and American values. The museum had a single architect and was built by a large construction company with a deadline. However, there was input into its design countless tribes, and it's appearance is meant to stand out from the other museums on the Mall and is evocative of a weather-worn rock formation.
Finally, we watched a presentation about Social and Emotional Learning, in which students get a change to explore their own values through lessons about history. It was a worthwhile trip!
July 18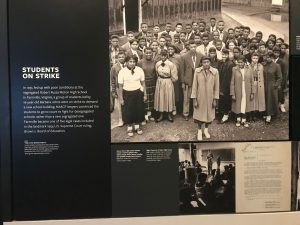 Hannah: On Thursday, Mohammed and I spent the day at NMAAHC. It was a deeply moving experience, and I wish we had had more time to explore. The started on the top floor, which is devoted to the cultural contributions of Black Americans. I found it to be such a joyful and celebratory space, much more so than any other museum I had ever been in.
The first floor history exhibit, which moves from the beginnings of the trans-Atlantic slave trade up to the present day, was very powerful. I was on the lookout for local history that I could incorporate into teaching. I was happy to see a panel on the Farmville strike in Virginia.
Week Eight (July 22 – 28)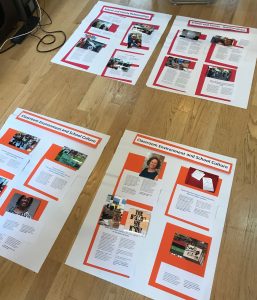 Hannah: This week was all about preparing for the DC Public Schools Summer Leadership Institute. I was tasked with creating six posters that would have summaries of examples of "School and Family Relationships," "Curriculum and Pedagogical Approaches," and "Classroom Culture and School Environment" that involved equity. The examples would were all taken from DC Public Schools. I began by creating the template for what each poster would look like. I then took the stories and shorted them to fit on the poster, and selected images to go along with the story.
Friday and Sunday were big assembly days. Raegan and I, along with some friends who came in to help out, put together the folders that would be given to teachers at the beginning of each session.
Week Nine (July 29 – 30)
Hannah: I arrived at Ron Brown College Preparatory High School at 8 AM to help set up the six classrooms that Teaching for Change would be giving trainings in. We went around and put up Amplifier Project posters, the gallery walk posters, and set up materials. Once we were finished setting up, Raegan and I were able to head downstairs and catch the end of the morning plenary, which was given by Lisa Delpit, author of Multiplication is for White People and Other People's Children. She gave a compelling argument for the importance of investing in Black children's education and combating stereotype threat.
We then headed back upstairs for the first session. I went around to each classroom, taking photos of the sessions. Each began with an introduction from  DCPS and an overview of Teaching for Change's work, and then each teacher wrote on a piece of paper shaped like a footprint about whose shoes they walked in or a time they walked for justice. There were some very powerful and emotional stories, and they were taped up on the wall to form a "pathway to justice."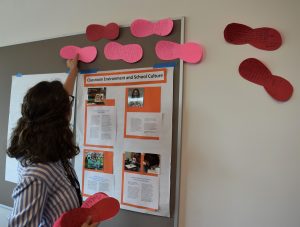 Next was an overview of the lesson The Color Line by Bill Bigelow which reveals how white elites used law to divide Africans, Indigenous peoples, and poor whites to keep them from organizing together.
Next, the facilitators took the educators through an overview of the differences between internalized, interpersonal, cultural, systemic, and institutionalized racism.
They then went on a "gallery walk" and looked at the posters we had worked so hard to make. Finally, facilitators ended by asking the teachers if they could name three Central Americans of note. In the classrooms I was present in, the answers were slim to none, and as a solution to this each room conducted a truncated version of the Teach Central America lesson. This whole session was repeated again in the afternoon. At the end of the day, every attendee got a free copy of Multiplication is for White People, and I look forward to reading mine.
The next day, we were able to arrive a bit later, and I arrived knowing what to expect for the day. Monday was primarily middle and high school teachers, and Tuesday was  elementary school teachers. As with the day before, I went around taking photos of classrooms  and making sure that everyone had copies of Teaching for Black Lives, and Rethinking Elementary School.
After the morning and afternoon sessions, we cleaned up our classrooms and headed out for the day! It was a long two days, but it was amazing to see so many dedicated educators working across the District assembled in one place. The facilitators in each room all had different styles and approaches to the planned presentations and activities, but each and every one was so engaging and a joy to watch.