Teaching for Change Offers Summer Workshop for Every DCPS School Leader
We were overjoyed and humbled by the invitation this summer for Teaching for Change to offer professional development for every single DCPS principal, assistant principal, and instructional coach — 750 people in all. For close to 30 years, Teaching for Change has offered workshops and institutes in collaboration with specific departments and individual schools in DCPS. But this year, we were asked to develop and facilitate a workshop for the annual district-wide Summer Leadership Institute to follow the powerful keynote presenter, Dr. Lisa Delpit.
Our main liaison was the DCPS Office of Equity. They requested that we address the following objectives:
Frame how institutionalized racism specifically shows up in DCPS curriculum, practices, and classroom environments.
Utilize Teaching for Change's tangible tools and strategies to address inequities in practice and student outcomes―especially for students farthest from opportunity.
Highlight DCPS schools leveraging culturally responsive practices.
The sessions, held on July 29 and 30, led to some wonderful dialogues and sharing of ideas from schools throughout the city. In their closing reflections, some participants noted:
It made me think about how children need to see themselves reflected in what they read, what they watch, what they learn. We can and should talk to students honestly about inequity.
Thank you for such a well-planned and facilitated session. I particularly appreciate the way you modeled throughout the activities how we can lead and teach for equity.
The facilitators were very responsive to the climate of the room when the topic led to spontaneous conversations or extensions. When we needed to extend the conversation about race, they allowed time for that but still maintained parameters so that the conversation was still productive. I also liked the highlight of learning about other overlooked races in addition to our Black history.
In Dr. Delpit's keynote on the first day, she stressed that educators must confront the reality of racism in education. "We breathe in racism and see it daily, so it must be addressed in schools." She added, "Racial bias is ingrained in our policies and curriculum."
Our workshop was designed to provide participants an opportunity to examine how racism manifests itself in the daily life of schools — and how to challenge it, using examples of efforts already underway in D.C. schools.
In Whose Shoes Have I Walked for Justice
Each session began with stories from the people in the room using the lesson, Big Shoes to Fill. We asked people to write on the footprint in their folder, "In whose shoes have I walked for justice." They read what they had written to one other participant, then we collected the footprints to place around the room in a path for justice.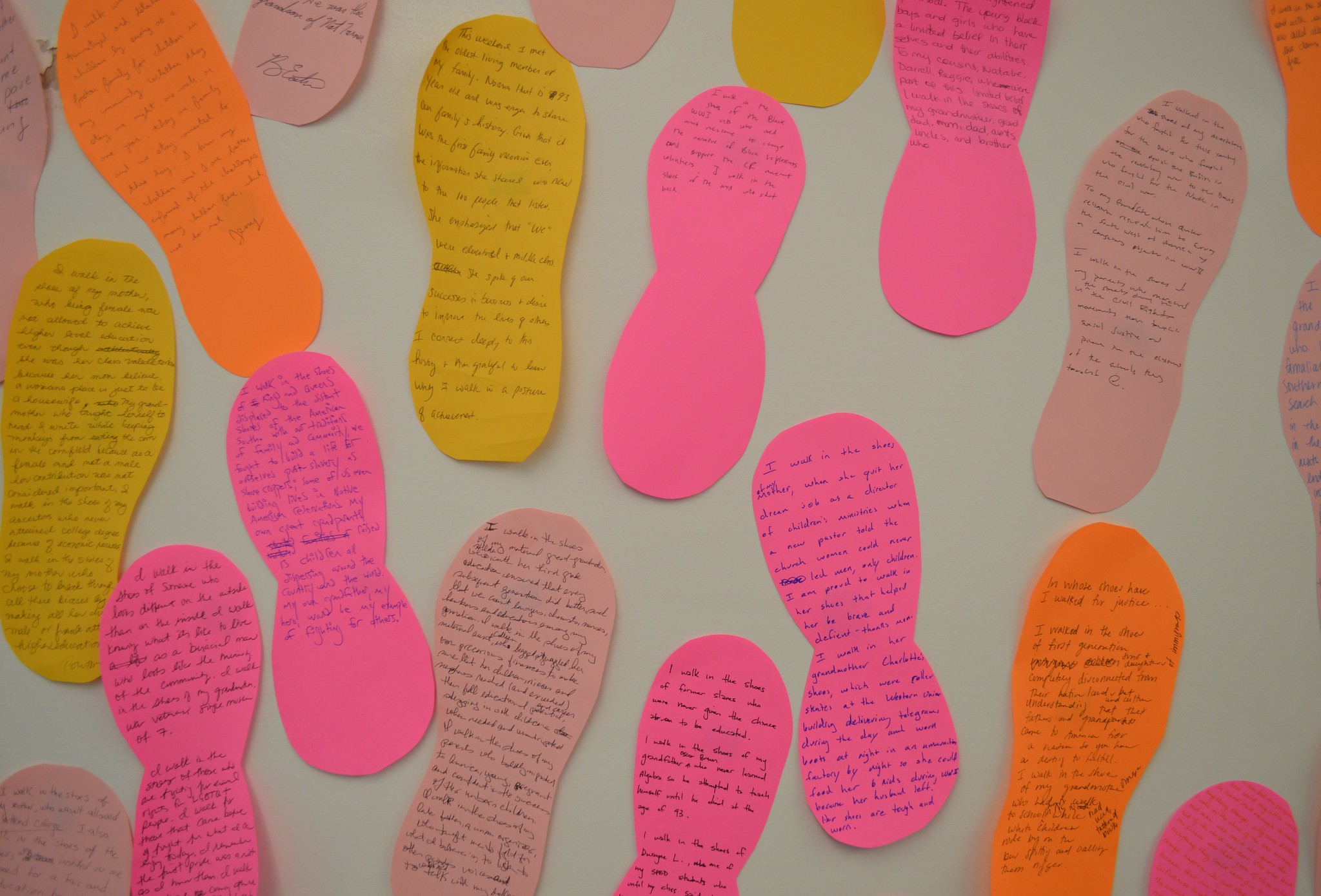 We have already heard from a DCPS middle school that utilized this same approach in a back to school session with teachers in early August.
Institutionalized Racism: Colonial Roots
To examine the historical roots of institutionalized racism, we used a lesson by Bill Bigelow from the Zinn Education Project called "The Color Line."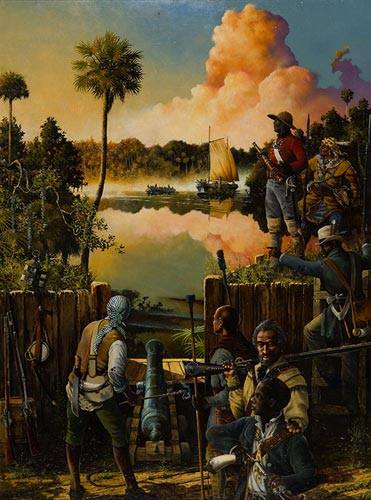 The facilitator began by noting that:
During the Colonial era, people united across racial lines in self-defense — such as in the image to the right of Native Americans and African Americans in what is now Florida.
The social elites of the early U.S. sought to manufacture racial divisions.
White men of property and privilege were in the minority; they wanted mechanisms to divide people who, in concert, might threaten the status quo.
Colonial laws from the period are some of the evidence we have of intentional efforts to consciously promote divisions and inequities based on race dating back to the founding of this country.
These laws are painful to read. It is important to remember that each one reflects countless examples of resistance. The lawmakers would not have taken the time to pass a law until they found it absolutely necessary to maintain control.
Participants engaged in an activity from the lesson where they brainstormed some of the laws that might have been passed in response to efforts to collaborate and resist by Africans, Native Americans, and poor whites. Then the facilitator shared examples of a few of the actual laws that had been passed.
Virginia's 1705 code mandated that planters provide freed white servants with fifty acres of land. The resulting white prosperity was then attributed to white superiority.  [Stamped from the Beginning, p. 68]
A Virginia colonial law sentenced white people to 25 lashes for stealing a pig but increased it to 39 lashes if the person were Black or Native American.
White servants were given numerous advantages not given to enslaved Black people, including the right to testify against their masters in court if they were not treated properly.
A 1683 New York law made it a crime for "Negro or Indian slaves" to meet anywhere together in groups of four or more or to be armed "with guns, Swords, Clubs, or Any Other kind of weapon."
Participants compared those to the ones they had drafted, and more importantly, the policies and practices in schools today. (A handout with many more laws from the lesson was included in the participants' folders.)
These examples sparked lots of discussion about the lasting impact and in many cases, new manifestations, of the laws today. As examples of how historical policies and practices relate to education today, groups had conversations about strict dress code policies that disproportionately affect Black and brown students and how those policies reinforce white, patriarchal, classist standards of dress to reinforce hierarchy. Groups also had conversations about discipline practices and current national debates about hi-tech security surveillance in schools, which often targets students and communities of color.
We pointed out that students also gain a lot of insights from this lesson, as Roosevelt High School administrator Julian Hipkins III noted in an article in The Washington Post.
The Color Line lesson led to a discussion about how oligarchs defend their interests. We would come back to that throughout the school year because the students noticed how race was being used as a wedge issue again and again. . . . When students learned how race had been created, how the structure of white supremacy had been constructed, they began to realize that it could also be destroyed.
Unpacking Racism and Classism in Schools
Taking a deeper look at racism (and classism) in schools, participants examined and discussed the chart below, developed by our Tellin' Stories team. We noted that while often the focus is on individual behaviors of staff or students, it is important to interrogate the institutional and systemic aspects.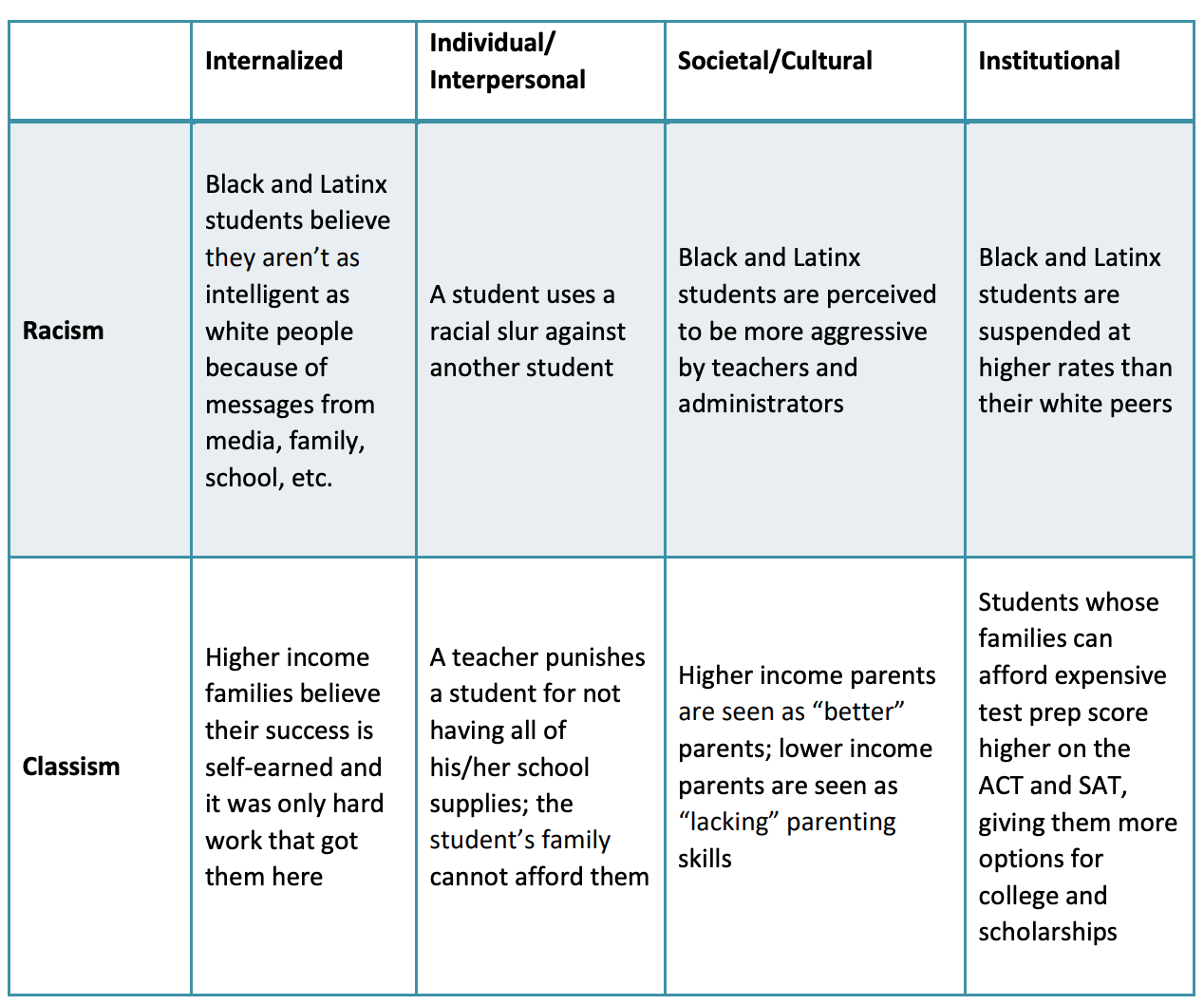 Challenging Racism and Classism in Schools
For examples of how to challenge racism and classism in schools, participants engaged in a gallery walk with dozens of examples from DC Public Schools throughout the city with a focus on curriculum, pedagogy, school culture, and family engagement. These categories were selected from Enid Lee's definition of equity:
Equity refers to those different and sometimes extra measures we undertake to address inequities in:
Purpose
Classroom environment
Curriculum content
Pedagogical approaches
Assessment
School and family relationships
Hiring
Professional development
Teacher evaluation
Funding
in order to ensure that every student can experience educational equality. Equity is the process, equality is the goal. – from Checking and Changing My Systems for Equity
Many of the examples in the gallery walk came from DCPS teachers participating in the annual Black Lives Matter at School Week of Action. To support even greater participation next year and to share lessons for other subject areas, each school received two books that Teaching for Change purchased from Rethinking Schools. All the schools received a copy of Teaching for Black Lives. The middle and high schools also received Reading, Writing, and Rising Up and the elementary schools received Rethinking Elementary Education.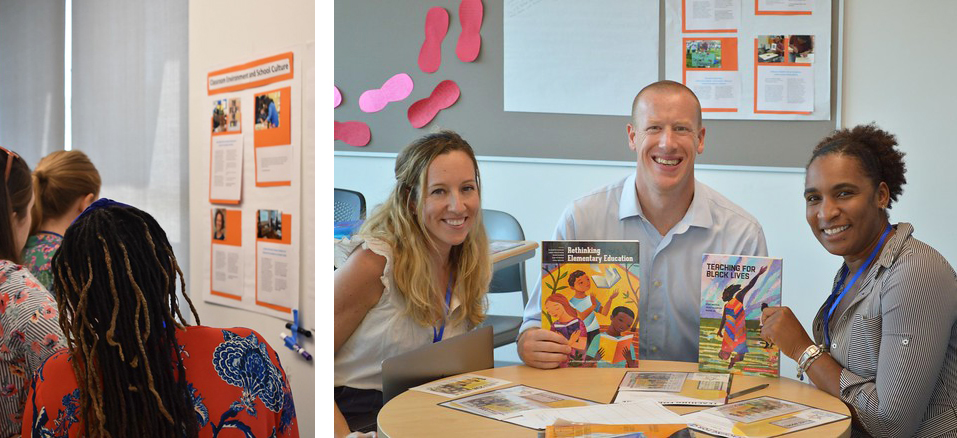 Culturally Responsive Curriculum
The session closed with a focus on culturally responsive curriculum, using the example of a lesson about Central America. The facilitators asked and explained,
What does this look like in classrooms? How can we ensure that students move beyond the traditional narrative and develop critical literacy skills about issues of race and equity? How can we bring culturally responsive practices into the classrooms, school libraries, and school-wide activities?
There are countless lessons and resources for transforming the curriculum, many that you are likely using in your schools already. We will share one example with you here and there are more in the books you will take back to your schools and in the free downloadable resources on the Teaching for Change websites.
Our mixer activities are just one example of how you can challenge the dominant narrative in a short period of time. We will use the example of a mixer on Central America.
In highlighting voices that have been marginalized in our schools, one example is students of Central American heritage.
Think for a minute about how many people of note from Central America that you can name who you could work into the curriculum.
Raise your hands if the number is more than two.
In most sessions, few if any hands went up. There was an immediate sense of concern when people realized that the DC metro area has one of the largest Central American populations in the U.S., yet so few people in the school system know anything about their heritage.
To remedy this, we introduced a mini-version of an introductory lesson that the administrators could use in their schools to ensure that everyone will learn the names, roles, and context of more than a dozen people of note from Central American history and literature. Everyone was given a lanyard with a photo and bio of someone either from Central America or from the U.S. who has played a key role in the region. Using a set of interview questions, participants "met" and learned about each other.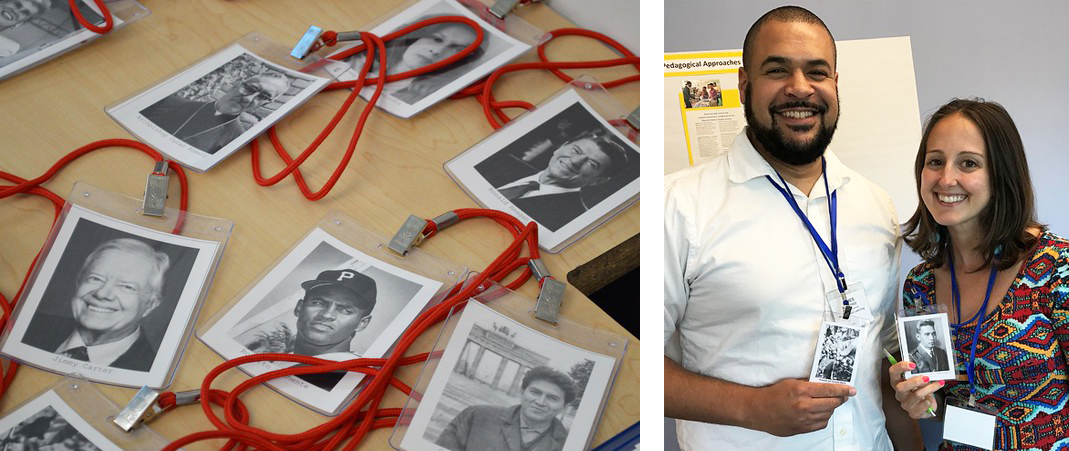 One participant noted,
I learned more in 10 minutes about Central America than I have ever learned about the region. It explained what is happening with the immigration tragedy.
Another participant said that her father's family is from Honduras and this was the first time she had ever seen the region addressed in a professional development session. By chance, she was given the bio for Honduran environmental activist Berta Caceres.
Reflections
The session ended with time for participants to reflect on how what they had learned and how it would impact their work in schools. Here are a few of their comments.
This session was fantastic!  It was approachable, grounded in real history, poignant, and accessible. Yet at the same time, powerful messages were delivered and heard.
The presenters were thoughtful to the level of intensity required to engage in race work. They handled topics with grace and humor eloquently creating safe spaces to discuss the very important issue. I was grateful to be in their session. I felt valued, supported and intellectually stimulated.
I really enjoyed the active participation and time to discuss with colleagues.
I appreciated how the information was presented in terms of historical significance as compared to what is happening today in education. Additionally, the resources that were shared were amazing and had immediate practical uses. Furthermore, this session again elicited the importance of this work in reference to one's personal experiences.
The facilitators were strong in their understanding of equity and MODELED what it really looks like — this is such a need at DCPS. Often DCPS district folks will say "do this" but don't actually do it themselves in that very same session. This highly valuable session did was phenomenal in embedding equity and what it looks like, sounds like, and is.
The activities were tightly planned, and all were thought-provoking.
Delivery was excellent. Facilitators were honest, transparent, and created a safe space for discussion on race and race relations in education.
I left thinking about the power of creating authentic and engaging opportunities for students to see themselves in the curriculum.
I am committing to help teachers find connections within the existing curriculum so social justice is consistently being aligned to student learning, not just through "projects."
This session helped me to think of different ways to incorporate equity into the math department (6th graders learn how to find the percent of a specific number— the "Diversity in Children's Books" card can be used for a lesson).
I appreciated seeing the amazing work taking place at our DCPS schools.
Thank you for such a well-planned and facilitated session. I particularly appreciate the way you modeled throughout the activities how we can lead and teach for equity.
PD on equity can be both educational + action-based. You all rocked the session.
Impact of power and privilege on customs and laws. Thanks for lifting up the Zinn Project, great resources, very interactive, loved the big shoes to fill.
Practical suggestions to disrupt racism and classism.
I appreciated the chart and looking at the ways that inequity plays out.
Facilitators and Preparation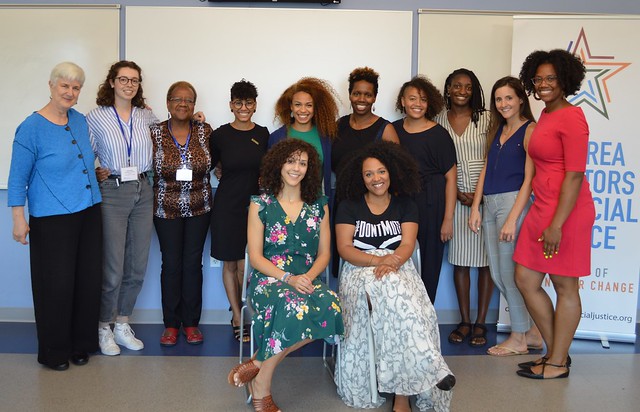 To offer the workshop to 750 people in groups of 20 to 30 meant that we needed to offer it a total of 24 times — six times in the morning and afternoon for two consecutive days. This required a team effort. The facilitators were Talia Brock, Allyson Criner Brown, Iris Jacob, Cierra Kaler-Jones, Enid Lee, Megan Madison, Rosalie Reyes, Deborah Menkart, Olivia Murphy, and Tina Tosto. Teaching for Change summer interns Hannah Russell-Hunter and Raegan Loheide prepared the gallery walk and many of the handouts.