Testifying Against D.C. Public School Closures
Sign the petition, and for updates on the fight against D.C. school closures visit Empower DC's education blog.
The following testimony was given Thursday, November 15, 2012 by Teaching for Change's Associate Director, Allyson Criner Brown, before the D.C. Council to oppose Bill 19-734, the School Closures and School Boundary Review Act of 2012. More than one hundred parents, students, teachers, and community members attended the public hearing, which was scheduled from 4-8pm. Testimony from the public did not begin until after 7pm and lasted until after 11pm. Unfortunately, many people who signed up to testify were unable to stay for the duration of the hearing. At nearly 10:30pm, Mrs. Brown finally testified after waiting more than six hours.
---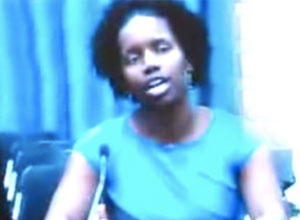 Greetings Councilmembers, Chancellor Henderson, and Community Members:
My name is Allyson Criner Brown and I am the Associate Director of Teaching for Change, a D.C.-based nonprofit whose mission is building social justice, starting in the classroom. I am a former teacher with seven years of experience working directly in and with public schools, and I hold a master's degree in public administration from the George Washington University. I am also here as a resident of Ward 4, a voter, and a future parent of children who will attend public school in the District of Columbia.
Teaching for Change partners directly with several DC public schools to engage and empower parents through our Tellin' Stories Project. None of our school partners are on the list of schools to be closed, but that does not matter. We are here today to call for a moratorium on school closures and to stand with the communities directly impacted by this proposal. School closures impact all of us who are vested in public education in the District of Columbia.
We talk often about the need for evidenced-based practices in education. A 2011 report from the Pew Charitable Trusts (Closing Public Schools in Philadelphia: Lessons from Six Urban Districts) examining school closings in six urban districts – including DC – reached several important conclusions that contest the arguments for school closures.
The long-term effect of school closings on student performance appears to be minimal. (In other words, there is no proof that closing schools is beneficial to students, and it should be noted the last round of public school closures in DC was included in this study.
The money saved as the result of closing schools, at least in the short run, has been relatively small in the context of big-city school-district budgets, with the largest savings achieved when closings were combined with large-scale layoffs. Longer-term savings are difficult to project.
Selling or leasing surplus school buildings, many of which are located in declining neighborhoods, tends to be extremely difficult. No district has reaped anything like a windfall from such transactions. On a personal note, I live across the street from Rudolph Elementary, which has remained unoccupied for several years now since the last round of school closures.
For these reasons and more, Teaching for Change joins many voices in the call for a moratorium on ALL school closures. Closing schools is not the marker of accountability. Closing schools is not a comprehensive plan for education. Closing schools does not ensure that each child gets the best education possible.
We applaud DCPS and the Council for some profound efforts to improve the quality of teaching and learning in public schools – such as the Reality Professional Development Video Library, available online to all teachers; and the DC Healthy Schools Act of 2010 which has brought fresh fruits and vegetables directly to our children in the classroom – the current proposal to close rather than invest in these schools will only weaken public education and DC neighborhoods.
Where is the vision? How will closings support public education in D.C.? Many of the schools are being closed in part because of underuse or low enrollment, even as new charter schools open. What will happen when charter schools are full and DCPS is facing empty buildings and severe low enrollment?
The District needs a comprehensive plan to provide the children of DC with a high quality public education. This plan should include specific strategies to meet school and student needs; factor in DCPS school closings, recommendations for school boundary changes; and address charter schools openings and closings. Until such a plan – with a clear vision for public education that includes community input – is developed, we call for a moratorium on all school closures.
Each child has the right to have a high quality school in his or her neighborhood. Quality schools are one of the markers of desirable neighborhoods, and I would like to one day send my children to a high quality DC Public School in their neighborhood. I want them to be able to walk to school or ride their bikes to school. I want them to have science club, recess, field trips, art, music, PE, dance, sports, and all of the trimmings that made me excited to get up and go to school every morning. I want them to take pride in their school, their community, and in themselves. Anything less for the children of the District of Columbia is unacceptable.
---
Video link: https://www.youtube.com/watch?v=U5iaoyNY4Yo&feature=youtube_gdata_player
Posted: November 21, 2012