On the Importance of Puerto Rican Studies in Middle and High School, Post-Hurricane Maria
By Ricardo Gabriel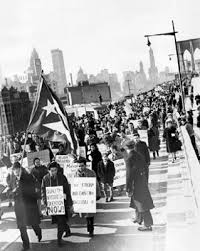 This new edition to Caribbean Connections: Puerto Rico could not come at a better or more urgent time. The year 2019 will mark the 50th anniversary of the student uprising which desegregated the City University of New York (CUNY)—the largest urban university system in the United States. In 1968, the student population at two of CUNY's flagship campuses, Brooklyn College and City College, were 96% and 91% white, respectively (Biondi 2012). The student movement demanded that, as a public institution, CUNY should be more reflective of the New York City public school population; the majority of which was comprised of Black and Puerto Rican students (New York Times, 1967). The movement, which included building takeovers and militant student strikes, was led by a coalition of Black, Puerto Rican, and radical white student organizations. These students, with strong community support, forced the CUNY administration to implement an "open admissions" policy that guaranteed a seat for every New York City high school graduate. The movement also led to the creation of Black and Puerto Rican studies departments and programs at CUNY and other universities across the Northeast.
Puerto Rican studies was created as an interdisciplinary field dedicated to the study and critical analysis of the Puerto Rican experience in the United States and in the Puerto Rican archipelago. Students and faculty aimed to develop a more emancipatory curriculum that would expose and counter the racist ideas about Puerto Ricans that were dominant at the time, in both academic and mainstream discourses. Puerto Rican studies emerged as a corrective to racist historiographies and narratives that are used to justify U.S. colonialism and which depict Puerto Ricans as passive, culturally deficient, and incapable of governing themselves.
They also sought to develop pedagogies that would lead students on a path towards self-knowledge and critical consciousness and inspire them to work towards social justice. For example, in a working paper titled, "New Knowledge, New Practice: Puerto Rican Studies," Frank Bonilla and Emilio González acknowledge that "Puerto Rican Studies programs were born out of conflict" and that they continued to be "centers of energy, ferment, and transformation," where Puerto Rican students, faculty, and administrators worked together to stabilize these programs while continuing "to play key roles in the development of other struggles in the community" (1973:228). Bonilla, González, and other faculty appreciated students "as engines of energy and insight" and valued collective decision-making and "the engagement of community people in the planning and development of programs" (ibid.)
In this way, the original impetus and vision for Puerto Rican studies extended well beyond the university. The goal was to use the resources of the university to improve the political, economic, and socio-cultural condition of Puerto Ricans in the Diaspora and in the Caribbean. Puerto Rican studies was founded on the principle of self-determination and is inherently anti-colonial. The movement for Puerto Rican studies, therefore, was both a pedagogical and a political project; one that is still very relevant today.
This updated edition is timely and important for another, more obvious reason. Puerto Rico is in the midst of a major economic crisis and is still recovering from the disastrous effects of Hurricane Maria, which hit Puerto Rico on September 20, 2017. Consequently, Puerto Rico is experiencing a mass exodus unlike anything we have seen since the post-World War II "Great Migration" of the 1940s and 1950s. By the one year anniversary of the hurricane, approximately 160,000 people left Puerto Rico for the U.S., according to data from the Center for Puerto Rican Studies (Hinojosa and Meléndez 2018). Many of the newly displaced are school-age children. The devastating category five hurricane only intensified an economic crisis and an increase in outmigration that had been underway for at least a decade (Krogstad 2016). In fact, this major recession hit Puerto Rico in 2006, the year in which the first edition of Caribbean Connections: Puerto Rico was released.
While an explanation of the economic crisis is beyond the scope of this essay, it is important to note that the crisis has been seized upon by "vulture" hedge funds and disaster capitalists in order to push through an extreme neoliberal austerity program that includes closing and privatizing hundreds of public schools, as well as plans to privatize the electric company, water systems, parks, and other public services. People are migrating in search of jobs, healthcare, and education. The thousands of deaths and the tens of thousands of people fleeing the island(s) in the wake of Hurricane Maria are not the result of a "natural disaster." They are the result of economic policies that have left Puerto Rican infrastructure and society extremely vulnerable to the effects of human-induced climate change.
It is the hope that this new guide will help educators and students make sense of the current situation and inspire action. The new "mini-lessons" included in this edition provide readings, instructions for in-class activities, and discussion questions that can be used in a wide variety of classroom settings and can even be adapted for high school and college classes.
A crucial part of making sense of the current situation is to realize that this is only the latest stage in the ongoing crisis that is U.S. colonialism. As with the earlier mass migration of the post-World War II era, this 21st-century migration is the result of an oppressive political and economic system that consistently puts the interests of U.S. and local economic elites over the needs of the Puerto Rican people. As award-winning journalist Naomi Klein illustrates in her book, The Battle for Paradise: Puerto Rico Takes on the Disaster Capitalists, colonialism can be understood as "a multilayered system of explicit and implicit controls designed to strip colonized peoples of their culture, confidence, and power" (2018:28). This is why Puerto Rican studies was, and remains, so important. It can be a vital tool against the psychological assaults of colonialism. It can help students gain the knowledge, confidence, and consciousness needed to use their power.
Although Puerto Rican studies programs exist mainly in institutions of higher education, the demand for socially relevant and culturally sustaining curriculum actually originated with educators and community leaders at the K-12 level (Nieto 2000). Renowned education scholar, Sonia Nieto, describes how during the 1950s and 1960s, Puerto Rican educators and community activists started to challenge assumptions and assimilationist policies that characterized Puerto Rican children as "culturally deprived" and "began to make demands for programs such as bilingual education, ethnic studies, and cross-cultural education because a new paradigm of cultural and linguistic inclusion was beginning to form" (2000:16).
Organizations such as ASPIRA and United Bronx Parents (UBP) condemned the New York City school system for failing Puerto Rican children and advocated for "a new form of instruction, one that addressed their particular linguistic and cultural needs" (De Jesús and Pérez 2009:9). This guide is making an important contribution to addressing the needs of pre-existing and newer Puerto Rican student populations and bringing Puerto Rican studies back into elementary, middle, and high school classrooms.
The Importance of Puerto Rican Studies Today
There are currently at least two major situations that educators, school workers, and education scholars must address with regard to Puerto Rican students in U.S. schools today. The first is the pre-existing and ongoing crisis facing U.S.-born, second-to-fourth generation Puerto Rican migrants. This population continues to battle high dropout/pushout rates, low levels of academic attainment, alienating curriculum, poverty, and institutional racism. The second situation refers to the more recent and ongoing waves of displaced Puerto Rican students and their families. The educational needs of both groups certainly overlap, but are not identical. Puerto Rican studies and other forms of socially relevant and culturally sustaining pedagogy can be a bridge; addressing the needs of older and newer communities and creating awareness and understanding between them and other marginalized student groups.
The five themes in this book: history and geography; identity; government, economy, and civic life; land and environment; and culture and traditions, are good starting places for educating students of all backgrounds about Puerto Rico. It is a well-rounded introduction with an emphasis on literature and the arts that pushes back against Eurocentric and colonial narratives.
Unfortunately, racist tropes continue to be used against Puerto Ricans to this day, as when President Donald Trump said that Puerto Ricans "want everything to be done for them" amid his administration's negligent and incompetent response to the humanitarian disaster that unfolded after Hurricane Maria.
A critical approach to teaching about Puerto Rico and Puerto Ricans can help new migrants and all other students better understand the current crisis and see through the stereotypes and myths perpetuated by those in power. It can help them become more knowledgeable about the United States' role in the Caribbean and its relationship to Puerto Rico. Puerto Ricans' long history of community activism and many contributions should also be studied and celebrated. This history is not just for or about Puerto Ricans. It is about the larger struggle for human emancipation and decolonization and should, therefore, be of interest to all social justice educators.
Conclusion
Fifty years after the founding and institutionalization of the field of Puerto Rican studies, the need for transdisciplinary and critical approaches to the study of the Puerto Rican experience, both in the Diaspora and in the archipelago, and at every level of education, is truly greater than ever. The stakes are high. But we, as educators, can do our part by providing students of all backgrounds with a critical perspective on the United States' colonial domination over Puerto Rico and, just as importantly, teaching students about Puerto Rican resistance and the ongoing grassroots struggles for dignity, economic justice, food sovereignty, environmental and climate justice, and self-determination.
---
Ricardo Gabriel is a doctoral candidate in sociology at the Graduate Center of the City University of New York (CUNY). His research interests include social movements; decolonial education; and issues of environmental and climate justice. His dissertation is on the movement for Puerto Rican Studies at CUNY from 1969 to the late 1970s and its connection to the larger struggle for Puerto Rican decolonization and self-determination.
---
Works Cited
Bonilla, Frank, and Emilio González. 1973. "New Knowing, New Practice: Puerto Rican Studies." Pp. 224-234 in Structures of Dependency, edited by Frank Bonilla and Robert Henriques Girling.
Biondi, M. 2012. The Black Revolution on Campus. Berkeley: University of California Press.
De Jesús, Anthony and Madeline Pérez. 2009. "From Community Control to Consent Decree: Puerto Ricans Organizing for Education and Language Rights in 1960s and '70s New York City." CENTRO Journal 21(2):7-31.
Hinojosa, Jennifer and Edwin Meléndez. 2018. "Puerto Rican Exodus: One Year Since Hurricane Maria." Center for Puerto Rican Studies. Research Brief: Centro RB2018-05, September. Retrieved October 15, 2018.
Klein, Naomi. 2018. The Battle for Paradise: Puerto Rico Takes on the Disaster Capitalists. Chicago: Haymarket Books.
Krogstad, Jens Manuel. 2016. "Historic population losses continue across Puerto Rico." Pew Research Center: Fact Tank, March 24. Retrieved October 15, 2018.
Nieto, Sonia, ed. 2000. Puerto Rican students in U.S. schools. New Jersey: Lawrence Erlbaum Associates, Inc.
New York Times. 1967. "Negro and Puerto Rican Pupils in Majority Here for First Time." March 15, 1967.
---
Printed here with permission of Ricardo Gabriel, October 2018.
| | |
| --- | --- |
| | This piece is from the upcoming third edition of Caribbean Connections: Puerto Rico, edited by Marilisa Jiménez García, which introduces students to the history, economy, environment, and culture of Puerto Rico through essays, poetry, and fiction. |
Posted: September 6, 2019