Victory Stolen from Ward 8 Community: Parents Fight Again for Orr ES Modernization

Orr Elementary School (DCPS) parents in Washington, D.C.'s Ward 8 have organized for many years to have the building modernized. Orr, with an almost entirely low-income African American student population, is among the last open floor plan schools in the District. Built in 1974, it has never been modernized.
The dedicated, high quality administration and teaching staff make this an over-enrolled and popular school, despite the building. Orr also serves the largest population of preschool through Kindergarten students in its immediate area, with nine classrooms serving 150 children under 5 years old. But students have had enough of the rodents, leaky ceilings, poor ventilation and lighting, and the constant disruptions to learning caused by the noise of open space classrooms. As the student in the opening note wrote, "In the 1950s, Black Americans attended schools that were in bad conditions. Things should be different now." Read more of their comments here.
After a long, parent-led battle, Orr finally got back on the modernization list in 2014. This was a major victory for the community, with an allocation of $39 million to complete the planning and construction ending in fiscal year 2017.
But this week, families were dismayed when they learned the D.C. mayor's  Capital Plan allocated $0 for Orr's modernization in FY16 and the schedule for modernization was delayed.
"How is it that they can promise us something and then take it back?" said one parent.
On April 22, 2015, with the help of the Teaching for Change, Orr teachers, staff, and families held an emergency meeting to discuss ways to fight back against this unexplained gap in funding. While demoralization would have been understandable, the parents were energized, angry, and ready to take action. (See photos and read student testimonies here.)
Using a participatory process, they developed a short-term plan to advocate to restore the promised funding to start construction next year.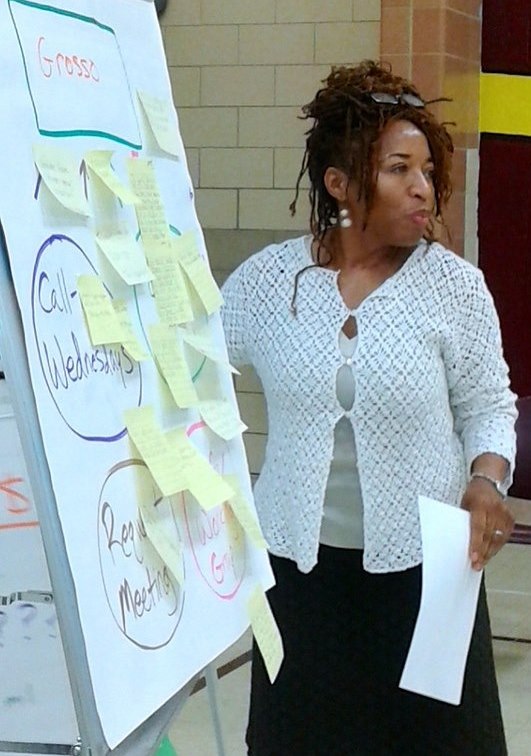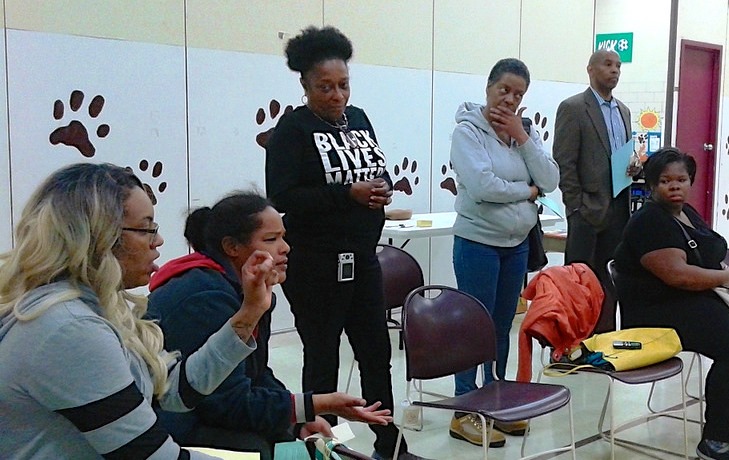 The first step was for Orr students, parents, and allies to testify at the City Council's Committee on Education Board Oversight Hearing on Thursday, April 23.
On May 5, Orr parents were featured guests on Taking Action, a weekly radio show hosted by Empower DC.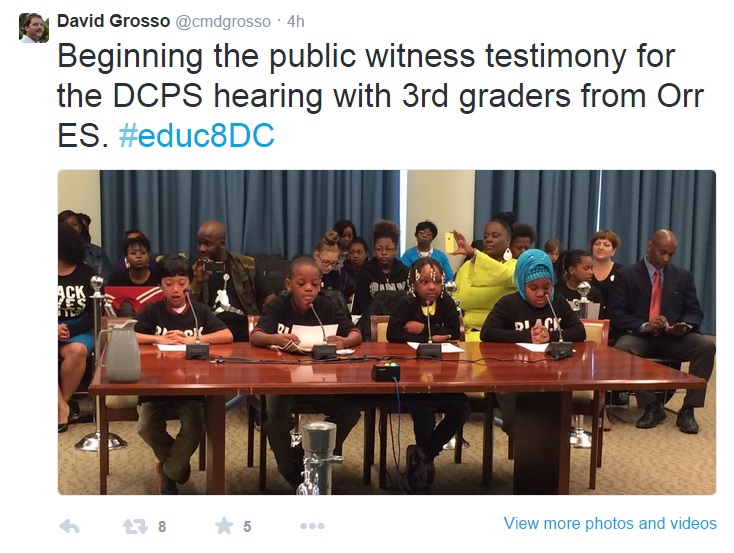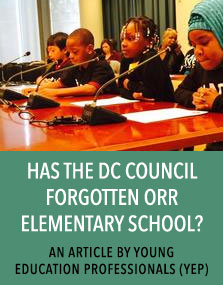 Teaching for Change is proud to join Orr students, parents, teachers, and the community in their call for the Council and the Mayor to move the $26.4 million needed to begin construction back to FY16. Orr Elementary cannot wait another year. Many of the students and parents who are there now, like others before them, are fighting for a new school they will not see. They know that Orr's future is dependent upon a new building.
To join the campaign to restore the funding for Orr, contact the D.C. city council education committee, chair, and mayor. Let them know that the long overdue school modernization for this community must begin now.
→UPDATE: PARTIAL VICTORY←
Parents, students, teachers, and school leadership won what some are calling a "partial victory" after uniting to bring Orr's situation to the attention of the DC Council.
On May 13, 2015, the Council's Committee on Education released its modifications to the Mayor's FY2016 budget and included $1 million dollars for planning for Orr's modernization for 2016 (the mayor's original budget allocated $0 for 2016). The Education Committee commented (emphasis added):
The Committee directs an increase of $1 million in FY16 for Orr Elementary. Orr is an elementary school in Ward 8 that based on the Committee's objective analysis tool was the top DCPS school with the most need for immediate modernization. Unfortunately, the Committee was unable to fully advance this project since no planning has been done yet, even though $3 million was allotted in FY15. Orr Elementary is an open-concept building that will require a full modernization. The Committee urges DCPS and DGS to begin planning for this project immediately.
The Orr community still faces uphill challenges because this year's funds for an architect and planning have not yet been spent. Teaching for Change will continue to support the Orr community and thanks all who helped in the advocacy effort.