By Dr. Marilisa Jiménez García En Julio del 2019—todo cambió. For 12 days, Puerto Ricans from every political party took to the streets through the archipelago calling for the resignation of Governor Ricardo Rosselló. Published by the Centro de Periodismo Investigativo, a series of chats between himself and major figures in his cabinet—riddled with abusive language about […]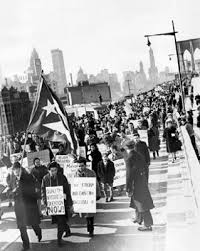 By Ricardo Gabriel This new edition to Caribbean Connections: Puerto Rico could not come at a better or more urgent time. The year 2019 will mark the 50th anniversary of the student uprising which desegregated the City University of New York (CUNY)—the largest urban university system in the United States. In 1968, the student population at two […]
Sign up to receive updates about new resources and events.
Investigating the Profit Motive Behind Bigotry and Discrimination This lesson gives participants an opportunity to investigate some of the individuals, organizations, and corporations that benefit from anti-Muslim hate through a role-play activity. They meet people like Marillyn Hewson, CEO of weapons manufacturer Lockheed Martin Corporation, and George Zoley, CEO of Geo Group, a private prison company. Participants also hear from people […]
This lesson asks participants to construct a definition of Islamophobia using a variety of evidence, including poetry, media images, news clips, and research data. The lesson also challenges a common pattern in representations of bigotry and discrimination that frames hate speech and hate attacks as nothing more than rogue individuals who lose their tempers after […]
Teaching for Change and Rethinking Schools collaborate to bring a people's history to the classroom.
More than four million Central Americans reside in the United States today, yet the lack of resources in most schools on Central American heritage make the rich history and literature of the region invisible. Also missing from the curriculum is the direct connection between U.S. foreign policy and Central American immigration to the United States. […]
Resistance 101: A Lesson for Inauguration Teach-Ins and Beyond Civil Rights Teaching Teaching About Selma: We share here interactive lessons and recommended resources that invite students to step into the history and think critically and creatively about the continued fight for justice today. Teaching About Freedom Schools: The Freedom Schools of the 1960s were part of a […]
Teaching for Change is honored to work with D.C. area schools and the authors of The Beat! Go-Go Music from Washington, D.C. to develop lessons on the rich and unique history and music of go-go and to bring renowned go-go performers into D.C. area schools. Teach the Beat: Go-Go Goes to School is designed to ensure that students learn the history […]