House Parties Celebrate 25 Years of Teaching for Change
Fundraising has never been so much fun! In honor of the organization's 25th anniversary, Teaching for Change supporters are hosting house parties to raise funds and spread the word about the work. Five parties have been held this fall, and more events are in the works for the spring. Read more about each party below.
---
February 21, 2016
On Sunday, February 21, Lynda Tredway hosted a house party benefitting Teaching for Change. The party featured the artwork of Frida Larios, who generously donated art for the silent auction and proceeds from her sales. Guests enjoyed delicious salads, cookies, and Salvadoran food while exploring Larios' beautiful artwork, which reimagines the Mayan alphabet.
Guests participated in an activity connected to Larios' artwork, then heard from executive director Deborah Menkart, who talked about the lack of diverse books in children's literature and how protests by Teaching for Change and allies convinced Scholastic to recall a book portraying #SlaveryWithASmile. On display were several examples of the excellent multicultural children's books Teaching for Change promotes.
Tredway shared why she held the house party fundraiser:
Teaching for Change is one of the stellar social justice education organizations in the country, and they deserve our support. In this month when we stop to honor the achievements of African-Americans, please think about a donation to this incredible organization.
The party was a wonderful opportunity to reconnect with longtime allies of Teaching for Change, and to introduce the organization to a new audience.
---
November 7, 2015
Board chair Kate Tindle hosted her annual house party fundraiser for Teaching for Change on the first Saturday in November. Once again it was full of great conversations, people, and food. In a brief formal presentation, attendees read quotes from program participants during Teaching for Change's 25 year history. Middle school teacher Tiffany Mitchell spoke about how Teaching for Change provides her with resources and a supportive community.
Teaching for Change has supported me as a teacher both professionally and personally. They've provided resources such as "The People vs. Columbus" lesson which I adapted for 6th graders. For my students to walk away saying this was a system of power (an empire) that everyone was operating under, I was blown away!
When I taught in D.C., I had a lot of students from immigrant families. Some were undocumented. We showed the film Precious Knowledge about the ban on ethnic studies in Tucson and students wrote letters to Congress on the DREAM act. Teaching for Change helped get authors to our school. When I left D.C. to teach in Arlington, I was a little nervous. Would I be able to bring this style of teaching there? The answer was yes. I was able to, and they love it.
A student sat in my class and said, "I can't wait to hear the truth today!" They walk away from my class knowing that history is complicated.
On a personal note, it can be hard being a social justice teacher. You can feel burned with this work. Going to Teaching for Change events and connecting with other social justice educators helps me recharge and fight the good fight. I love Teaching for Change.
Dawn Keene, parent of two elementary school students in Virginia, talked about the issues that move her to be a sustaining monthly donor. As a southerner, she noted as examples the recent church shooting in Charleston and the textbook mis-representations of slavery in Texas.
Many people in attendance have sustained the work of Teaching for Change with their donations each year at this very special event. Victoria Hellmer made her donation in multiples of 15 for each of Kate's 15 years on the board. Kate set a goal of $5,000 for her house party on this 25th anniversary of the organization. She has already raised $4,265. Please help her reach $5,000 with a donation in honor of her 15 years of service on the board and to ensure that Teaching for Change can continue to build social justice, starting in the classroom, in 2016.
---
October 19, 2015
"When I'm 64" was the theme for Teaching for Change board member Mike O'Brien's October house party to benefit the organization on our 25th anniversary, featuring a special presentation by fellow board member and SNCC veteran Tim Jenkins.  In honor of Mike's 64th birthday, O'Brien and his wife Ally McGill asked their friends to support Teaching for Change.
Guests experienced of one of Teaching for Change's popular teaching activities, Stepping into Selma. Each guest was assigned the identity of a key person in the voting rights struggle in Selma and encouraged to interact.
Teaching for Change board member Tim Jenkins addressed the gathering, sharing lessons learned from his years with the Student Nonviolent Coordinating Committee (SNCC). He noted the important role Teaching for Change plays in introducing teachers and students to this grassroots history of the Civil Rights Movement. He also credited Teaching for Change with providing recommendations for eye-opening titles for all ages such as Gerald Horne's book, The Counter Revolution Of 1776: Slave Resistance and the Origins of the United States of America.
In closing remarks, O'Brien noted that Teaching for Change's bookstore at Busboys and Poets was the first to carry his book, We Shall Not Be Moved: The Jackson Woolworth Sit-In and the Movement It Inspired.
Many guests, including those who could not attend, made generous donations online.
---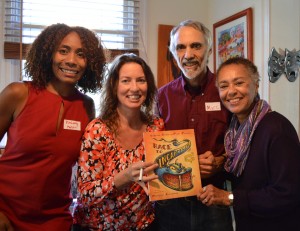 October 11, 2015
Evie Frankl and Gene Bruskin hosted a brunch house party for Teaching for Change featuring a special presentation by the filmmaker of Maestra, Catherine Murphy, and some of her collaborators. Maestra tells the story of the very successful Cuban literacy campaign.
Guests discussed lessons that could be applied from the Cuban literacy campaign to the crisis in adult literacy in the U.S. today.
Evie described her history with Teaching for Change since serving on the board and now frequently collaborating on education organizing. Gene encouraged everyone to donate to Teaching for Change so that the blockade on knowledge about U.S. foreign policy towards Cuba and the rest of the world could be lifted in schools and the media.
Attendees included authors whose work has been promoted by Teaching for Change in schools, Marc Mauer (Race to Incarcerate) and Judy Richardson (Hands on the Freedom Plow.)
---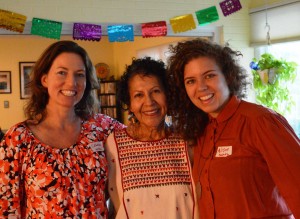 October 11, 2015
Sylvia Sanchez and her husband Hector Alvarez hosted a house party for Teaching for Change with a Day of the Dead theme on Sunday afternoon. There was a stunning altar in the living room, a scrumptious dinner, pan dulce, and a silent auction with artwork donated by Cecelia Alvarado.
Guests heard from Sylvia that she was making a donation and serving as a board member of Teaching for Change,
In memory of my grandparents, Manuelita and Maximiano Morales Zapata, who joyfully walked me every day to one of the few kindergartens in my home town. They inspired me to chose my profession and continue to influence the social justice issues I embrace.
Teaching for Change associate director Allyson Criner Brown described how our work with parents encourages and honors bilingual literacy. Then guests were invited to experience our work in action, either by watching a clip from the film Maestra about the Cuban literacy campaign, presented by filmmaker Catherine Murphy, or engaging in a mini-version of Teaching for Change's lesson on Central America.
Guests left their donations in a basket by the door. We even received contributions from people who could not attend. A friend of Sylvia's from New York, Milga Nadal, made a generous donation online. She added that it was in honor of Dr. Antonia Pantoja, founder of ASPIRA.
More photos.
---
September 20, 2015
Marrianne McMullen and Jeff Epton, along with their neighbor Andrea Vincent, invited people to their home in Brookland on September 20 for the first in our fall series of 25th anniversary Teaching for Change house parties. This wasn't a stressful and stuffy major gala event—instead it was a grassroots fundraiser for a grassroots organization. There was a house full of wonderful company, scrumptious food, a relaxed atmosphere, and meaningful conversation.
The attendees included two former board members (Lynda Tredway and Marcy Campos) and educators who had participated in our programs going back two decades. Some we have seen often, for others, this was a reunion. The living room, kitchen, and deck were abuzz with substantial conversations about local elections, a new Guatemalan film, the Pope's visit to D.C., schools, and families.
Jeff explained to the group why he hosted the brunch.
Teaching for Change is helping children learn the stories of collective action – the stories that can inform our organizing and help us overcome despair.
He recalled the words of Arundhati Roy,
Our strategy should be not only to confront empire, but to lay siege to it. To deprive it of oxygen. To shame it. To mock it… with stories that are different from the ones we are being brainwashed to believe. Remember this: We be many and they be few.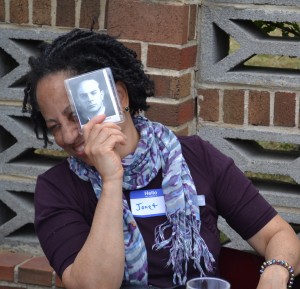 Teaching for Change executive director Deborah Menkart shared highlights of recent work in Mississippi, where Teaching for Change is building a community of civil rights teachers across the state. She then led the guests in a lesson about Central America, where participants each take on the role of a person of note.
Andrea described the impact of Teaching for Change's parent organizing project, Tellin' Stories, at Mt. Ranier Elementary School, where she is a teacher.
At the closing, Marrianne encouraged everyone to become a sustaining donor to Teaching for Change.
Jeff and I can't write a large check, but we can give a donation every month. If you're thinking of making a $100 donation, stretch it a little. Make it sustainable. Consider making it $10/month.
Everyone picked up a donation envelope and made a contribution.
---
Please make your own donation to Teaching for Change and/or host a house party. We can help. Email Allison Acosta if you are interested.