What Principals Gained from the 2019 Equity and Family Engagement Summer Institute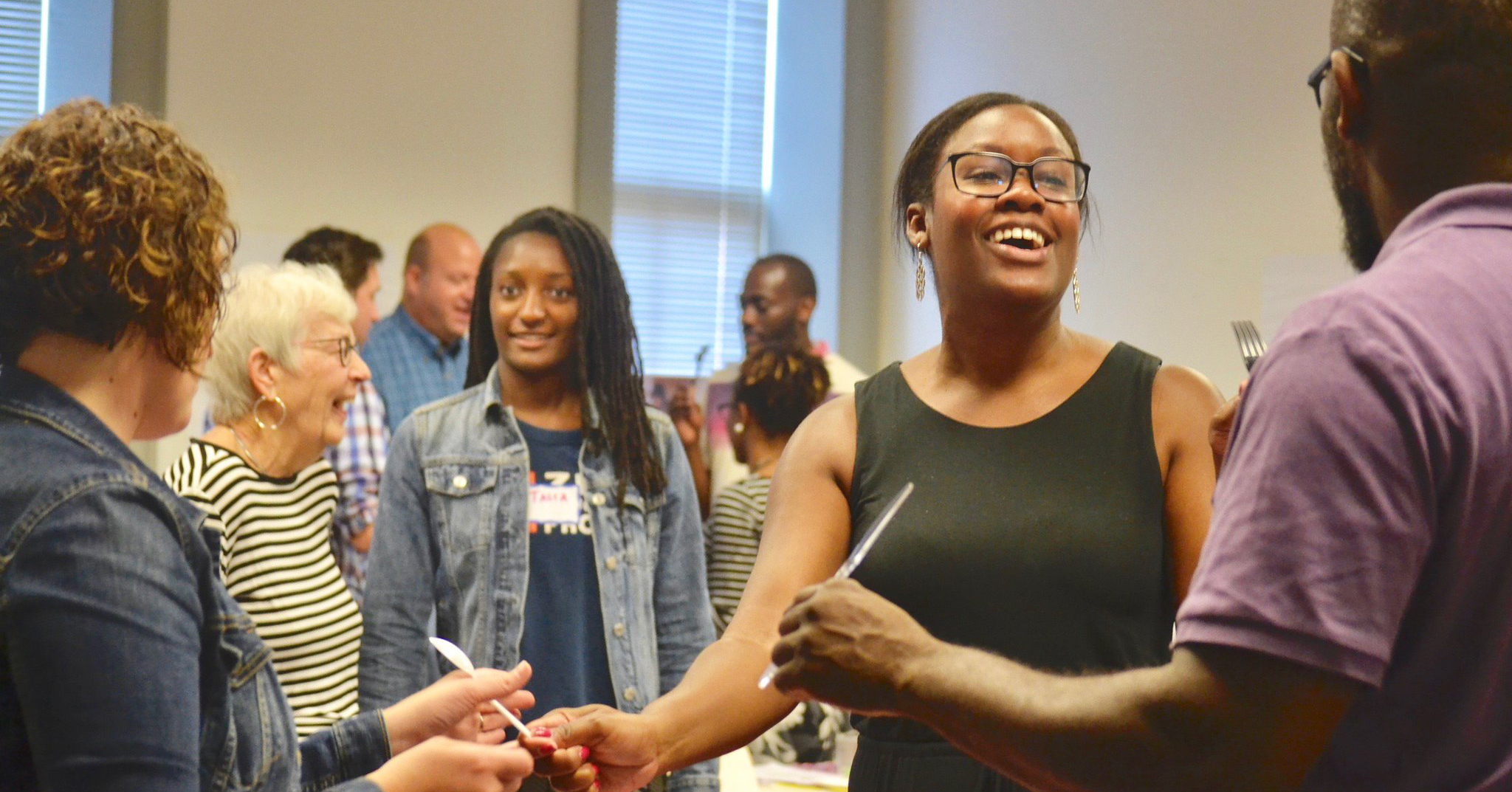 For many people, schools may not be the most welcoming places. This is especially true for marginalized members of the school community. As a school leader, this institute helped me reflect upon, develop and create strategies to help all members of the community feel comfortable, valued, and accepted and to help ensure the success of ALL children. —Emmett Conroy, Vice Principal, Arlington Public Schools
Teaching for Change launched its first summer institute focused on principals and school leaders in Washington, D.C., from July 23-25, 2019. Sixteen principals and assistant principals from DC Public Schools (DCPS) and Arlington Public Schools (APS) gathered for the Tellin' Stories Race, Equity, and Family Engagement Summer Institute for Principals.
The goal of the principal institute was to teach participants to apply an asset-based lens to family engagement that is grounded in popular education, community organizing, racial equity, and family engagement research.
In evaluations, 100% of attendees agreed that Teaching for Change achieved the objectives of the summer institute:
Participants learn to build relationships with and support families, particularly lower-income families and parents of color
Participants share and explore experiences related to racism, classism, privilege, and oppression
Participants examine the impacts of racism and classism on their school's families and parent engagement strategies and work to find solutions
Participants build their knowledge of research-based family engagement strategies that are high impact and rooted in equity
Participants develop concrete strategies to increase and/or deepen their own family engagement practices
When asked what their favorite parts of the institute were, participants cited the opportunity to explore racism and classism in open dialogue, reflecting on their own biases and practices, unpacking real-life scenario skits, and exploring the challenges faced by other principals.
DCPS assistant principal Drake Wilson commented, "The institute provided an opportunity to explore issues related to race and class to equip principals with tools to enhance parent engagement. The three-day training was planned very well and created an opportunity for administrators to share ideas and network. Excellent experience!"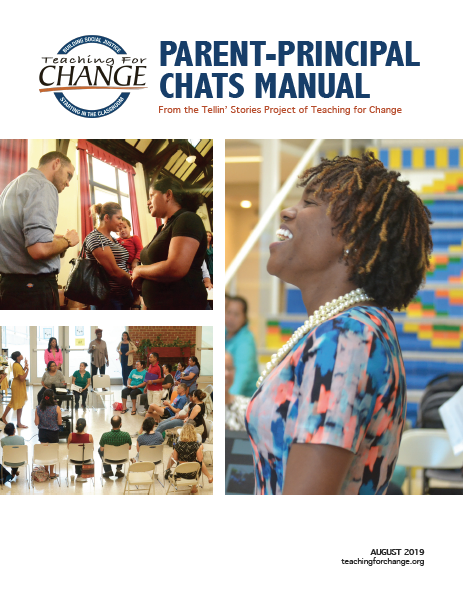 The institute also served as the launch of Teaching for Change's new Parent-Principal Chats Manual, a guide for school leaders on how to apply the concepts behind Teaching for Change's approach to monthly open meetings with parents. (The Parent-Principal Chats Manual is only available to school  administrators who complete our principal institute and those from Teaching for Change's partner schools in Washington, D.C.)
Teaching for Change also hosted a summer institute for teacher and school-based staff in June, and will again host principal and teacher institutes in summer 2020.
The Tellin' Stories Race, Equity, and Family Engagement Summer Institute for Principals was held thanks to generous support from the W.K. Kellogg Foundation and the Morris & Gwendolyn Cafritz Foundation, with multiple scholarships funded by the Communities for Just Schools Fund and the Horning Family Fund.
Read more from the principal institute participants in some of their own words:
One word stuck out to me on day 3: vulnerable. I think that is a major component of equity and high impact family engagement. I feel encouraged and inspired by everyone here. I also feel encouraged that this is a diverse group talking about race – what people are really afraid to talk about. –  Silean Eaves, DC Public Schools
The principal summer institute by Teaching for Change helped in shifting my perspective on family engagement into a more inclusive and intentioned focus on involving all families. –  James Welch, Arlington Public Schools
Teaching for Change's principal institute was an opportunity for me to reflect and grow as a person, and a great way to connect with school leaders from throughout the DMV to re-think some of our core tenets of family engagement, school culture, and staff development. I highly recommend it for any school leader who wants to come back to their schools with a fresh set of eyes and ideas. –  Graham McBride, Arlington Public Schools
I am happy to have had a few days of self-reflection as a person and as a white man, with multiple ends of privilege living in this world, hoping to build on my relationships personally and in my job. I really appreciate the combination of personal reflection and real strategies I got to take back to my team. –  John Burst, DC Public Schools
This summer institute provided great reminders of the critical importance of keeping the parents' perspective and telling your genuine stories in order to engage your community in teaching for change. –  Laurel Cerrud, Arlington Public Schools
I found this summer institute a very reflective, engaging, and powerful experience. It provided concrete and comprehensive strategies that I can implement in my school to ensure families engage with the entire school community. –  Judy Seeber, Arlington Public Schools
Immediately following the principal institute, the Teaching for Change team led racial equity workshops for all DCPS senior school administrators at the district's July 2019 Summer Leadership Institute. Read about that here.