Bookstore
Independent • Progressive • Non-Profit
Teaching for Change's Bookstore is the Washington, D.C. area's best source for books that encourage children and adults to question, challenge, and re-think the world beyond the headlines.
The bookstore is located in the Busboys and Poets (14th and V Streets NW) restaurant, performance space, and coffeehouse, which features a dynamic events schedule. You can also browse the bookstore selection online.
Best Selection of Multicultural Books for Children and Young Adults
As educators, we are proud of our hand-selected collection of books for children and young adults that highlight children of color and social justice themes.
Our collection runs counter the industry norm. In the past nine years, only 10% of children's books published are by or about people of color. In our Teaching for Change Bookstore, about 85% of children's books we sell are by or about people of color.
What People Are Saying
Teaching for Change's bookstore at Busboys and Poets plays a unique and vital role as the only provider of such a strong collection of multicultural and social justice books in virtually the entire East Coast and it is really the only one of its kind in the greater bookstore community. It's an important bookstore and I'm proud that I live in an area where a store like this exists. – Eric Stragar, The Perseus Books Group
"Brunch and books? What could be better? Teaching for Change's Bookstore at Busboys and Poets is my favorite place to find new, inspiring books for my students. I feel good about supporting a non-profit that works to promote social justice, and the great neighborhood atmosphere outshines the big, crowded bookstores." — Lindsay Kopitzke, Alternative School Teacher, Fairfax County Public Schools
"The Teaching for Change Bookstore is one of my favorite places in D.C. The book selection has shaped my pedagogy, helped me to become more culturally responsive and equitable in my practice, given me ideas and inspirations for lessons and activities to use with my students, and helped me to understand how I can affect change in my community as a teacher. The author events have been incredible opportunities to gather with colleagues, students, and/or community members and learn from activists and change makers. When I brought my students to a book talk last year, they were surprised to see a packed house and one of them said, 'Ms. Moorman, real people read this book too?' For them, school can sometimes feel isolated and Teaching for Change has helped to make what we learn meaningful. I have been inspired, humbled, enlightened, and awakened thanks to the Teaching for Change Bookstore." —Barrie Moorman, U.S. history teacher (Washington, D.C.) and Teaching Tolerance 2014 Excellence in Teaching Award Winner
"Teaching for Change's Bookstore at Busboys and Poets provides our teachers the materials we need to make our very diverse classes welcoming to all our students. The resources we got from the bookstore fill in what the textbooks leave out so that our students can see themselves and their issues in the curriculum." — Erin McVadon Albright, International Baccalaureate Diploma, Coordinator, Fairfax County Public Schools
"The empowering and provocative books that I have found in Teaching for Change's Bookstore at Busboys and Poets have been incredibly useful in educating, motivating, and inspiring my teachers to look at the purpose of education in a revolutionary scope." — David L. Heiber, director of Student Support Services, Cesar Chavez Public Charter Schools for Public Policy
"Teaching for Change's Bookstore at Busboys and Poets is on the lips of every major publisher from New York City to Los Angeles. It supports local authors, promotes books not readily available in other markets, and hires a staff that is conversant in these titles." — Scott Wythe, The Empire Group
I was first introduced to Teaching for Change and Busboys and Poets by my graduate college professor at Trinity College where I was working toward a degree in Curriculum and Instruction with a focus in Reading. Once I experienced the large selection of multicultural titles, I was hooked. The Teaching for Change Bookstore is a great source for children's literature that speaks to a variety of audiences from early emergent readers to adults. I appreciate the collection of rich and authentic literature as well as the free author events. – Mischa Dorr-Ames, Reading Specialist, PGCPS
Nowhere in Washington can you find such a dedicated collection of great (and diverse) world literature and important and timely books on government, social justice, education and international issues. —Eugenia Kim, author of The Calligrapher's Daughter
Living in a diverse city, I know that I can easily find children's books at Teaching for Change's Bookstore that reflect and honor the diversity of my children and their friends. The Teaching for Change staff are incredibly helpful. Being surrounded by progressive books that offer insight into the challenging issues of our time and realizing that there are creative resources to help us begin conversations with our children about creating change is a rare and inspiring experience that everyone needs to have! – Susan Burton, director, United Methodist Seminar Program
Read many more comments from people all over the country in response to the attack on Teaching for Change's Bookstore by Rush Limbaugh.
 Bookstore Press and Videos
Teaching for Change's Bookstore at Busboys and Poets through the Eyes of a Backpack Journalist. 

| | |
| --- | --- |
| | "Rush into Battle" by Maureen Costello in Teaching Tolerance. |
| | Shelf-Awareness featured Teaching for Change's Bookstore in a full length article. Read more. |
| | Front Porch interviewed our Bookstore Manager. Read more. |
| | A number of people wrote to the Washington City Paper in response to statements about our bookstore. Here are their comments. |
Author Events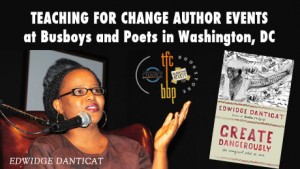 Teaching for Change helps to schedule and host the author events at the 14th & V location of Busboys and Poets.
These authors have included Simeon Booker, Taylor Branch, Octavia Butler, Charles Cobb Jr., Edwidge Danticat, Junot Diaz, Lisa Delpit, Bill Fletcher Jr., Eloise Greenfield, Natalie Hopkinson, James Loewen, Clarence Lusane, Bob Moses, George Pelecanos, Barbara Ransby,  John Sayles, Paula Young Shelton, Shirley Sherrod, Ronald Takaki, Howard Zinn, Dave Zirin, and countless more.  Check out the list of author events.
Book Selection
We carefully select every title to ensure access to: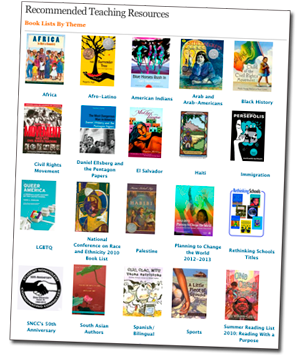 High-quality progressive politics, poetry and literature
Young adult fiction with real-world themes
Multicultural titles for pre-K-12 teachers and parents
Independent publishers
Works detailing a "people's history" – including that of African Americans, Latinos/as, Asian Americans, Arab Americans, Native Americans, labor activists, international populations, and women.
View our selection of new books and recommended resources we feature at the bookstore and online.
Location
Busboys and Poets – D.C.
2021 14th St. NW
Washington, D.C. 20009
(202) 387-7638
The Teaching for Change bookstore is at this location. There are other Busboys and Poets in D.C, Virginia, and Maryland. Busboys and Poets is a venture of peace activist and local businessman Andy Shallal. Find out more at: www.busboysandpoets.com.
Support Independent Bookstores
We encourage schools and other organizations to place their bulk or special orders through the bookstore. Please download (in PDF), copy, and share our ordering information packet.
You can also place an online order for almost ANY title at our online store, hosted by Indiebound. Your purchases at this online store provide needed support for Teaching for Change's Bookstore at Busboys and Poets.
The survival of independent bookstores and related author events requires an engaged, local-loving customer base. Buying online from Amazon undermines our survival. Read more.