Two DCPS Principals receive the "Education for Liberation Award" from Teaching for Change
Carmen Shepherd of Thomson Elementary and Dr. Marta Palacios of Bruce-Monroe Elementary at Park View honored at June 29 event
Teaching for Change was proud to honor individuals whose work and lived experiences embody the pursuit and interconnectedness of education, multiculturalism, social justice, and democracy with our "Education for Liberation Award" at a celebration of our 25th anniversary on June 29, 2016.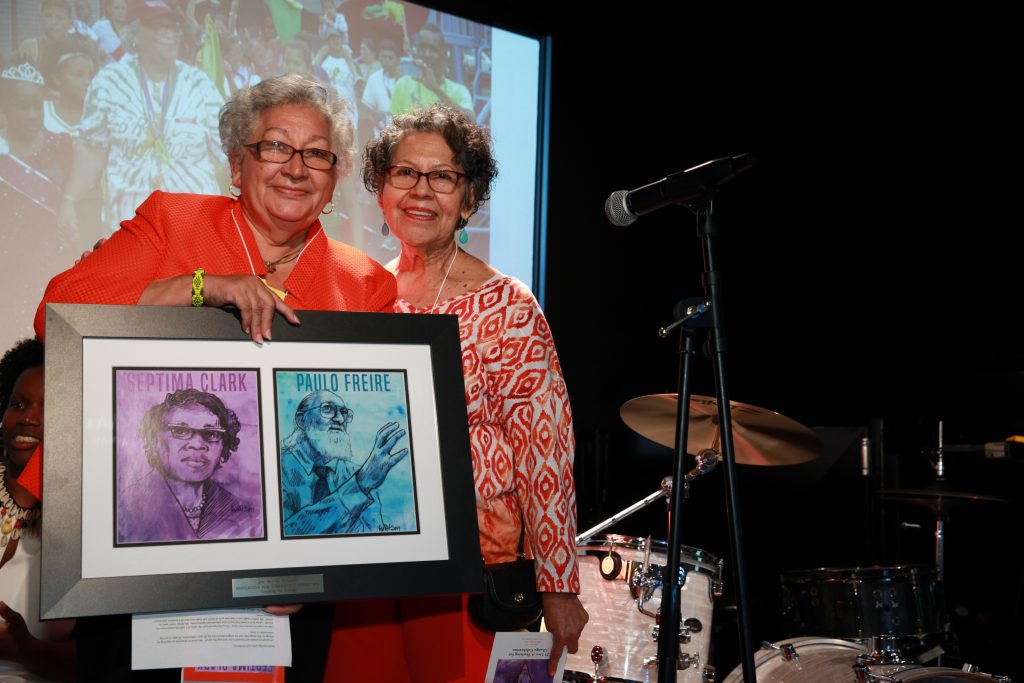 Sylvia Sanchez, Teaching for Change board member and professor of bilingual education, presented the award to Dr. Marta Palacios. Sanchez said,
Dr. Marta Palacios has been an advocate for children and their families, beginning as a teacher in El Salvador and then as a teacher and school principal (recently retired) in Washington, D.C. As the first Salvadoran principal in the D.C. metro area, Palacios noted that, "I saw myself in the faces of the students and their families." While at Bruce Monroe ES, her collaboration with parents and teachers led to many gains, including a bilingual program, full enrollment, meeting achievement goals, and a new library. Despite these advances, the school was placed on a list for closing. Dr. Palacios bravely stood with the parents and the community in their fight to save the school. She then played a leadership role when Bruce Monroe and Park View ES were combined.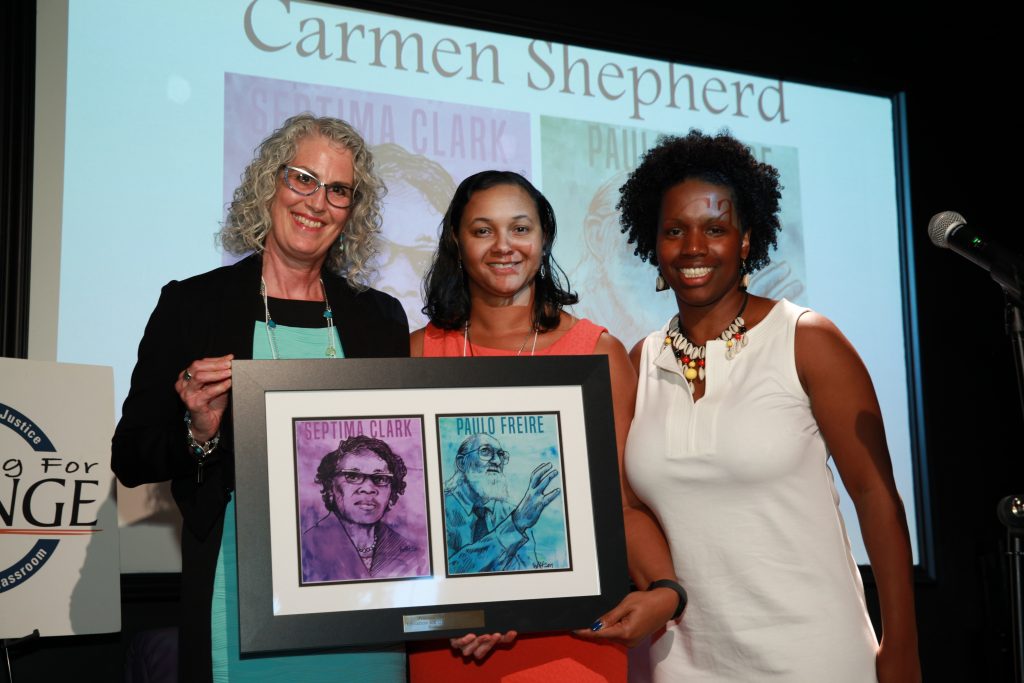 Kate Tindle, Teaching for Change board chair, presented the Education for Liberation Award to Principal Carmen Shepherd. Tindle said,
Since Ms. Carmen Shepherd became the principal of Thomson Elementary in 2011, she has been the exemplar of a school leader who invites families to be meaningful partners in their children's learning and their school. The results speak volumes – high levels of family engagement. Thirty or more parents come to the monthly Principal Chit Chats and the parent center is full and a buzz of activity every morning. Thomson has a welcoming and improved school climate, high teacher retention, significantly higher student achievement, and is a school that continues to transform with its families. Ms. Shepherd said, "Of the many hats I wear, one of those hats is that of the community organizer. As principals, we are really here to serve and work with families."
Teaching for Change has worked with Dr. Palacios and Ms. Shepherd to build strong schools with parent power through our Tellin' Stories project. Our approach to family engagement uses parent organizing, leadership coaching, and professional development to build the dual capacity of parents and educators for meaningful partnership.
Teaching for Change also honored renowned children's book author Eloise Greenfield and the SNCC Legacy Project with the Education for Liberation Award at the event. The award featured original portraits of educators Septima Clark and Paulo Freire by illustrator Jesse Joshua Watson.
Event guests heard from noted educators Greg Carr (Howard University) and Enid Lee (co-editor of Beyond Heroes and Holidays) as well as legendary go-go performers Ju-Ju and Sweet Cherie.
Photos of the event and the awardees available.
______________________________________________________________________________
Teaching for Change provides teachers and parents with the tools to create schools where students learn to read, write and change the world. By drawing direct connections to real world issues, Teaching for Change encourages teachers and students to question and re-think the world inside and outside their classrooms, build a more equitable, multicultural society, and become active global citizens.