2019 Indigenous Peoples' Day Curriculum Teach-In New York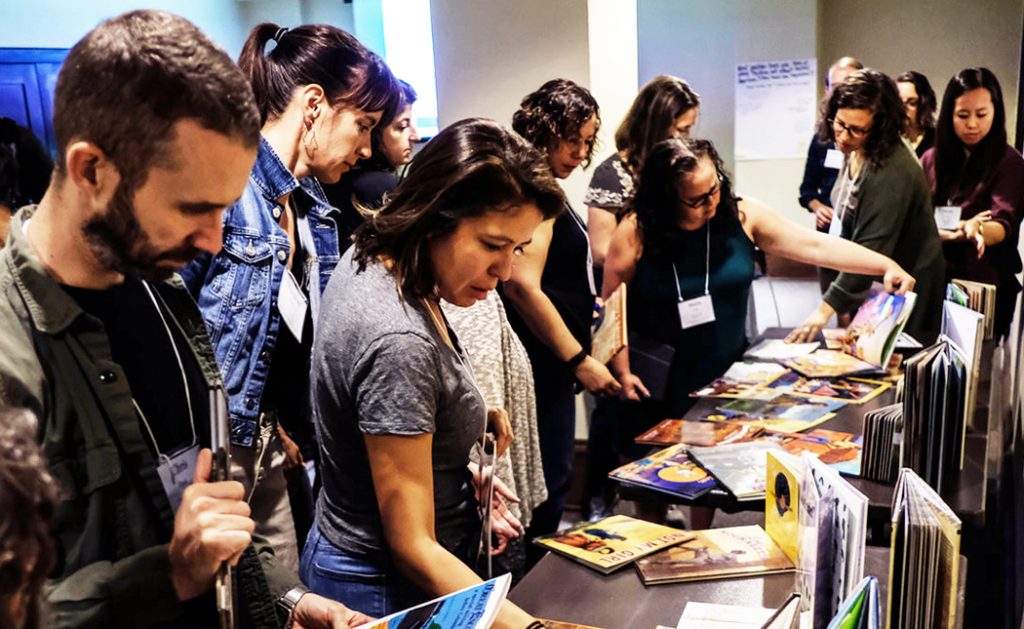 On September 28, 2019, nearly 150 educators gathered for the 2019 Indigenous Peoples' Day Curriculum Teach-in hosted by Teaching for Change and the Smithsonian's National Museum of the American Indian New York. 
The day was filled with talks and workshops on teaching about Indigenous peoples' histories and experiences today. Speakers and workshops featured classroom resources for K-12 from Native Knowledge 360°, NMAI's initiative to transform teaching and learning about American Indians, as well as resources from the Zinn Education Project, including the campaign to abolish Columbus Day.
The event's keynote speaker, Roxanne Dunbar-Ortiz, author and editor of more than a dozen books including "All the Real Indians Died Off": And 20 Other Myths about Native Americans, who has been active in the international Indigenous movement for more than four decades. Her 1977 book The Great Sioux Nation was the fundamental document at the first international conference on Indigenous peoples of the Americas at the United Nations in Geneva. Dunbar-Ortiz's talk centered on her book An Indigenous People's History of the United States, which tells the story of the United States as a colonialist settler-state, one that sought to crush and subjugate Indigenous populations. "In spite of all that was done to them, Indigenous peoples are still here."
Teach-in participant Kristine Frederick shared her reflection on the keynote,
The myth of progress from capitalism is dispelled by a study of indigineous community before colonialism: wealth of nutrition, health, solidarity, leisure, connection to nature, diplomacy, multilingualism. https://t.co/Swi0Up0EYZ

— Kristine Fredrick (@Kboogie68) September 28, 2019
Attendees had the opportunity to select from a range of workshop sessions in the morning and afternoon.
Educators left the teach-in with new knowledge and understanding.
Two, that #teachers & educators can't just be teaching ABOUT native and indigenous peoples- we have to be teaching native peoples' VALUES. That's how we connect (not by thru Pocahontas, songs, and the like). Takes deeper understanding. Thx again @SmithsonianNMAI @teachingchange.

— Annie Tan (@AnnieTangent) September 28, 2019
See additional photos on Flickr.
Workshop Descriptions
Building Critical Literacy in your classroom: American Indian Children's Literature
What makes a good book for your classroom? Learn more about what to look for and how to assess American Indian children's books for their accuracy, authority, and perspective.
This session, with a focus on pre-K through fourth-grade educators, will develop your critical literacy. Learn to recognize bias in the presentation of Indigenous people's history and contemporary reality in schools and books. The session will include time to read and critique children's books. Presented by Deborah Menkart, Teaching for Change Executive Director, and Rosalie Reyes, Teaching for Change Coordinator of Teacher Engagement and Professional Development.
NK360° Digital Lesson: How Do Native People and Nations Experience Belonging?
Learn about NMAI's national education initiative, Native Knowledge 360° and strategies for cross-curricular integration and implementation with our inquiry-based digital lesson, How Do Native Nations Experience Belonging? Support the study of Native history and culture in accurate and culturally specific ways as you examine the significance that homelands, kinship systems, and nationhood hold for Native Peoples of the Northern Plains. Explore four case studies to learn more about the relationships that help to create a sense of belonging. Led by Dr. Elisa James (Cherokee Nation), Library Media Specialist at Hamden High School.
The People vs. Columbus, et al.
A trial role play asks students to determine who is responsible for the death of millions of Taínos on the island of Hispaniola in the late fifteenth century. Participants will experience this popular lesson by Bill Bigelow from Rethinking Schools and talk about adaptations for their classrooms. There will also be a discussion of strategies to engage students in the campaign to Abolish Columbus Day. Led by Faye Colon, U.S. History Teacher, Harvest Collegiate.
Native Innovation in the Americas
Native people are the original innovators of the Americas. This is the powerful message of the imagiNATIONS Activity Center (iAC). Through a variety of hands-on activities, explore Native scientific discoveries and inventions that continue to affect the world today. Gain a deeper understanding of how Native knowledge can inform your teaching practice in a variety of subject areas. Presented by Carrie Gonzalez (Mixtec), Cultural Interpreter, NMAI.
The ABCDE's: Activism by Children Defending the Environment
Through poetry, science, example and gratitude, inspire your students to organize, mobilize and join Indigenous youth around the world in the movement to protect the Earth Mother. Meet young intrepid Native and non-Native environmentalists who "wind the world well" through education, by rallying governments and citizens to learn Indigenous knowledge and by taking the lead in protecting our planet. Spark a student movement that surpasses your classroom and propels the community to take action. Presented by Yvonne Wakim Dennis (Sand Hill/Cherokee/Syrian), and Arlene Hirschfelder, educators and authors of A Kids Guide to Native American History.
Taíno: Native Heritage and Identity in the Caribbean
Enjoy a lively and engaging exhibition tour as you explore the rural roots of the Taíno movement and the living legacies of Native peoples throughout the Spanish-speaking Caribbean islands and their U.S. diasporas. Presented by Cacique Jorge Estevez (Taíno).