Bills Would Ban Teaching People's History
In an alarming number of states across the country, Republican lawmakers are proposing bills to ban the truthful teaching of history. These efforts are described in an Education Week article by Sarah Schwartz, "8 States Debate Bills to Restrict How Teachers Discuss Racism, Sexism." Many of the proposed bills are based on language from Trump's 2020 Executive Order 13950.
In Missouri, Republicans proposed a bill that would specifically ban curriculum developed by Teaching for Change and the Zinn Education Project (coordinated by Teaching for Change and Rethinking Schools).
Exemplary programs. Curricula implementing critical race theory include, but are not limited to, the 1619 Project initiative of the New York Times, the Learning for Justice Curriculum of the Southern Poverty Law Center, We Stories, programs of Educational Equity Consultants, BLM at School, Teaching for Change, Zinn Education Project, and any other similar, predecessor, or successor curricula.
In January 2021, two bills banning people's history were introduced in Arkansas. One would eliminate teaching about racial injustice or any curriculum that would promote "solidarity." Race, gender, social class? All are banned as categories of analysis in the curriculum. The other would remove state funding from schools teaching with the New York Times 1619 Project.
On May 6, 2021, Zinn Education Project team member and Rethinking Schools editor Jesse Hagopian spoke on CBS News about the rash of GOP bills being introduced to prohibit the honest teaching of history.
Hagopian announced that the Zinn Education Project is inviting teachers to sign a pledge stating that they refuse to lie to young people about U.S. history and current events — regardless of the law.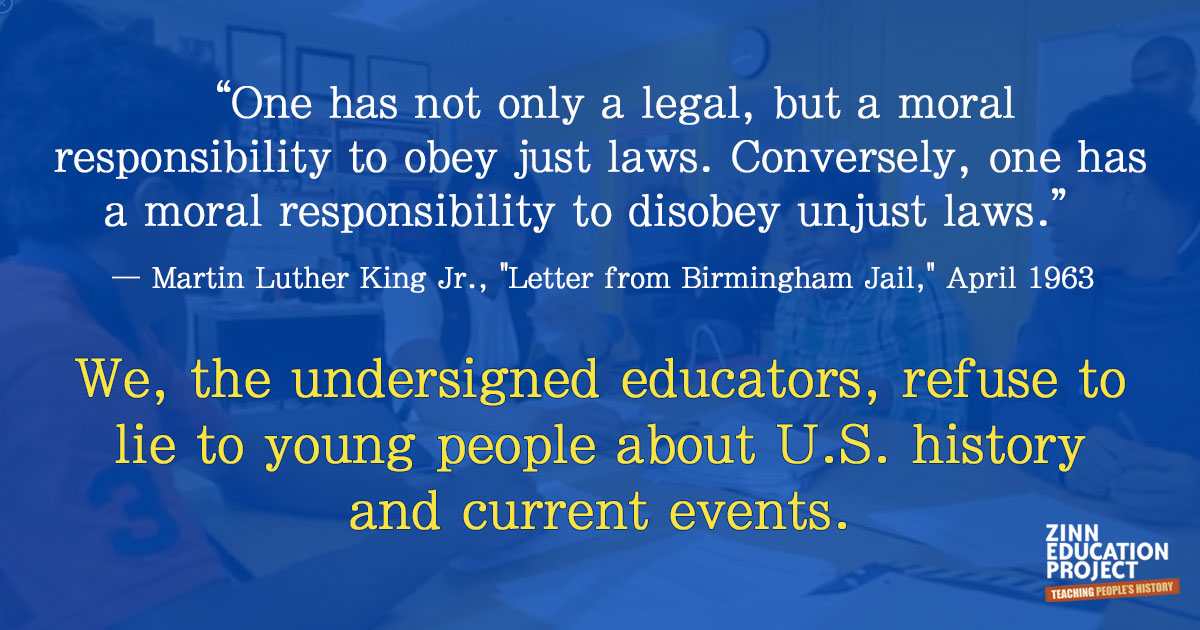 If you are not a teacher and want to lend your support, here are calls to action to defend the teaching of people's history.