What Happens in a Lockdown?
Parent-Principal Chats Bring Community Together to Discuss Emergencies and Safety
On January 23, 2020, parents and caregivers from West Education Campus (DCPS) gathered with staff for January's Principal Coffee. The monthly meeting, drawing from Teaching for Change's Parent-Principal Chats signature activity, is usually a fun and informative gathering for the West community. This day, Principal Niyeka Jackson and team used the opportunity to discuss and answer questions about lockdowns and safety procedures, after an incident at a nearby school caused West to go into lockdown some days before.
With an interpreter provided by Teaching for Change to support language access, West kicked off the Principal's Coffee with a community building activity to create a positive and open atmosphere for families. Among a diverse spread of parents spoke Manual Diego*, a father of one. His demanding work schedule prevents him from attending the monthly meetings but that day, he was on a rare two-week vacation. He took the chance to introduce himself, share about his family, and say how thrilled he was to be there. Mr. Diego shared his health goal for 2020, as well as a hope that he will be able to continue joining the Principal Coffees to communicate with other families and stay informed as the topics change monthly.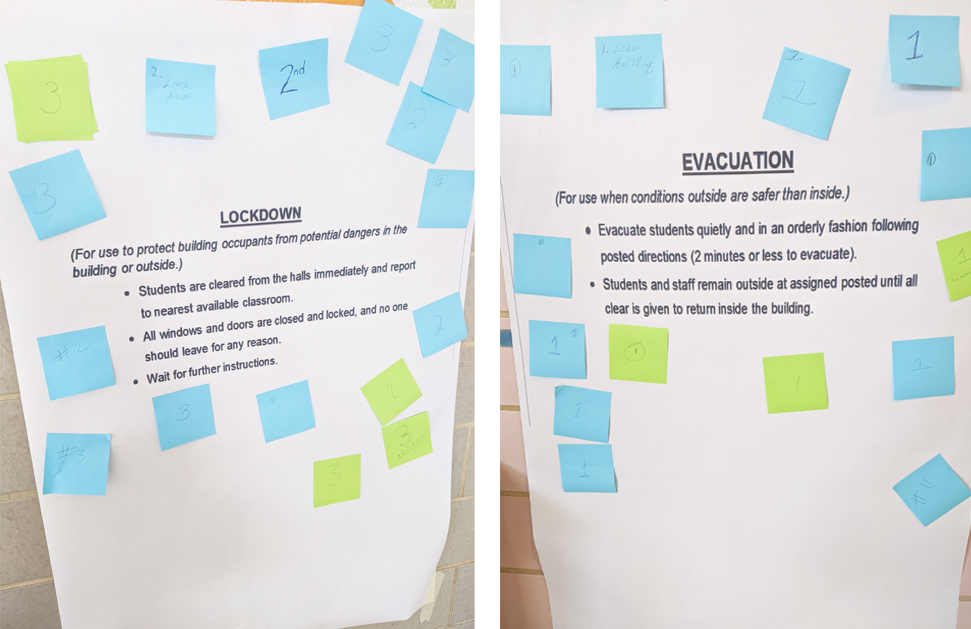 Knowing the meeting needed to be interactive and inclusive, Principal Jackson and the admin team shared three real-life emergency scenarios. They then gave a brief explanation of four different kinds of school emergency procedures: alert status, shelter in place, lockdown, and evacuation. With each scenario, parents put a sticky note on which procedure that they thought applied before staff discussed the correct procedure and why.
Parents and caregivers raised concerns about the anxiety lockdown drills may cause for children. Staff agreed with many of these concerns which are addressed in reports such as, "Active shooter drills are scaring kids and may not protect them." They talked about some of the measures teachers use to reduce anxiety, emphasizing their charge to ensure the children's safety. ALL agreed that we should be working towards a world where lockdown drills are not needed. It was a moving conversation among the adults in the school community who all have the children's best interest at heart and now better understand how the school protects students.
*Name has been changed