Teaching for Change in 2015
As we celebrate our 25th anniversary, we are pleased to share highlights from Teaching for Change's work in 2015. This is just a small window into our accomplishments. We encourage you to read below and follow the links to read about our work and our 25th anniversary celebrations.
Teaching for Change is the antidote to the anti-knowledge movement. Supporting Teaching for Change with our individual contributions helps build a permanent force for education that empowers communities. —Jeff Epton, parent
Our success is made possible by the ongoing support of allies like you. Help us deepen our impact by sharing these stories (as well as our resources for parents and teachers) as we continue building social justice, starting in the classroom. Please make a donation to ensure that we can continue this work.
---
Changing the Narrative about the Civil Rights Movement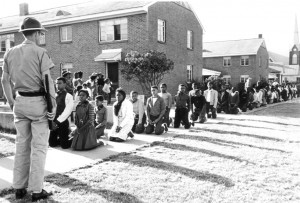 The year 2015 marked the 50th anniversary of the Selma-to-Montgomery March and the Voting Rights Act. While the media focused on the national leaders, Teaching for Change played a major role in highlighting the decades-long grassroots historic role of women, teachers, youth, and labor.
Our article by Emilye Crosby, "The Selma Voting Rights Struggle: 15 Key Points from Bottom-Up History and Why It Matters Today," and companion lesson went viral, reaching hundreds of thousands of readers and classrooms.
This article from Teaching for Change is the best thing I have read about Selma, the voting rights act, or even the Civil Rights Movement itself. It should be required reading.—James Loewen, Lies My Teacher Told Me
We created new quizzes on the people's history of the Voting Rights Act and the Montgomery Bus Boycott, as well as new recommended booklists for teaching about Selma and the Montgomery Bus Boycott.
---
Breaking Barriers of Race, Class, and Language in Schools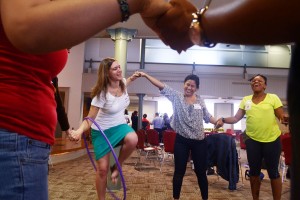 Gentrification can add to the challenges traditionally marginalized families—namely those from Black, Latino, immigrant, and low income communities—face when engaging with schools.
I feel so much better when I see Teaching for Change staff walk in the door. Our population is really changing and without your support, I don't know how we would come together.—Carla Ferris, parent
We helped prevent the push out of marginalized families at three schools in gentrifying D.C. neighborhoods. We supported more than 120 parents organizing for afterschool programs, school safety, principal selection, and other issues while working to overcome race and class differences.
---
Go-Go Performers Coach Next Generation in D.C. Classrooms
It was great to see my students validated not only about their academic endeavors, but also about their culture, their people, and who they are.—Bill Stevens, history teacher
Go-go music is unique to D.C. and a core part of the city's history and culture, but it is not in the D.C. history textbook. We helped fill that gap by bringing go-go performers and scholars to fifteen schools across the city and posting lessons for free access online.
The experience filled a hole in my knowledge of D.C. As a proud D.C. native, this new knowledge is especially important to me.—Ezra Wright, high school student
---
Zinn Education Project: 55,000 Teachers Strong and Counting
Our Zinn Education Project reached the milestone of 55,000 teachers registered to download free lessons that bring people's history into the classroom.
The Zinn Education Project is my compass in a sea of corporate textbooks, packaged common core curricula, and standardized testing. My entire curriculum is based on lessons that can be found on the Zinn Education Project.—Chris Buehler, teacher, Portland, Oregon
This year we added twelve new classroom lessons online. Our most popular article this year, Time to Abolish Columbus Day, reached millions of people. Read more.
---
Mississippi Teachers for Change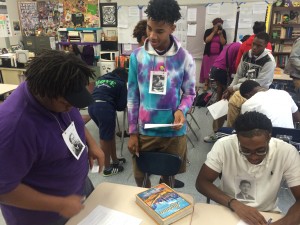 In Mississippi, we created a fellowship program to transform teaching about the history of the Civil Rights Movement in the state. The teacher fellows are engaging their peers in school districts across the state.
Fellow Philip Mohr, from the Delta, is participating so that he can support activism among young people with lessons from Mississippi history. He added,
This is the most effective, efficient, and inspiring professional development I've had in five years of teaching.
After a gallery walk with images on the history of racism and education in Mississippi, a student in one fellow's classroom recognized connections to the present, and posted,
#BlackEducationMatters
---
Teaching for Change Bookstore Moves Online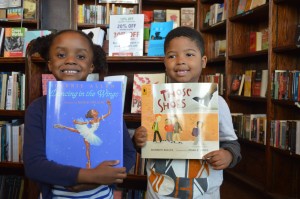 This year we moved our selection of social justice and multicultural books for all ages completely to our online bookstore, tfcbooks.org. We added new booklists on Selma, the Montgomery Bus Boycott, Washington, D.C., and anti-bias teaching.
Teaching for Change is about narrative change, understanding there are multiple narratives in our society, and how dangerous it is for children to only learn one dominant narrative.—Natalie Hopkinson, parent and author
Before ending our ten years as the founding bookstore at Busboys and Poets this spring, we hosted authors Sonia Nieto, Enid Lee, Jesse Hagopian, and Ai-jen Poo. Read and share memories from the bookstore.
---
D.C. History: Beyond the Monuments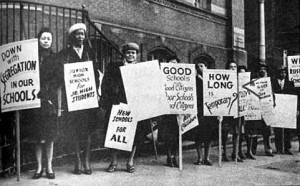 When most people think of Washington, D.C., what comes to mind are monuments, museums, and the federal government. Often overlooked by students on school tours to the nation's capital is the local city, long shaped by issues of race, class, and colonial status. Teaching for Change prepared a D.C. History Quiz to help fill the gaps in the traditional textbooks and guided tours. We also created a recommended booklist on Washington, D.C.
---

---
D.C. Teachers Launch Stories from Our Classrooms
We launched a year-long writing course with a cohort of teachers to deepen and document social justice teaching. As a result of writing and reflecting together, participants will deepen their own practice, build community among D.C. area social justice educators, and contribute to the all-too-scarce collection of published descriptions of classroom practice by teachers themselves. One participant said,
I valued the opportunity to listen to others' truths, stories, experiences; and the opportunity to be courageous and share my own truths, stories, experiences.
Each participant has committed to write and revise an article for publication. We look forward to sharing their social justice teaching stories.
---
Putting Central America on the Map in Schools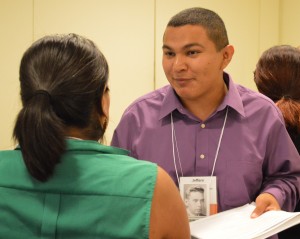 As children from Central America flee to the U.S. in record numbers, Teaching for Change continues to offer the only lessons and professional development available for teachers to learn about the history and culture of these refugees.
Every workshop offered by Teaching for Change staff begins with the question, "How many Central Americans of note–from history or today–can you name?" Even in schools with majority Central American students, no one names more than one.
If we don't know their history, then we can't understand why they are leaving their homes to come to the U.S.
To help teachers better understand their students and their history, this year Teaching for Change promoted our online, downloadable lessons and resource lists on Central America and offered workshops at conferences and schools. We were honored to have Eduardo Lopez, co-producer of the film Harvest of Empire: A History of Latinos in America, join us as a featured guest presenter at a number of the sessions.
---
Featured Presenter at National Conference on Race and Ethnicity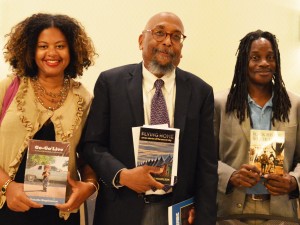 Teaching for Change was invited to plan and host four sessions at the National Conference on Race & Ethnicity in American Higher Education (NCORE) Washington, D.C. during our 25th anniversary. We hosted sessions on the People's History of the Voting Rights Struggle with SNCC veterans Judy Richardson and Courtland Cox, Sports as a Lens for Examining Race, Gender, Class, and Power with journalist Dave Zirin, the Hidden History of the U.S. in Central America and Immigration with filmmaker Eduardo Lopez, and Beyond the Monuments: Race and Class in D.C. with authors Clarence Lusane, Natalie Hopkinson, and David Nicholson. Read more about these sessions.
---
Partnerships and Collaborations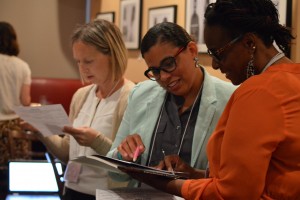 There are some groups we worked with day in and day out, such as Rethinking Schools on the Zinn Education Project.
Other collaborations were tied to annual events. This included CLASP for the Americas Award workshop with authors Duncan Tonatiuh and Margarita Engle, Africa Access for the Children's Africana Book Award, and FilmFest DC to bring international filmmakers to D.C. classrooms (Limited Partnership and This Land is My Land.)
We relied on key allies for our own education and resources to share with teachers, including the SNCC Legacy Project, CRMvet.org, One Person, One Vote, and American Indians in Children's Literature.
For the popular "this day in history" or #tdih posts on the Zinn Education Project facebook page, a key source of images were these people's history artists and photographers, with the addition of artwork by Erin Currier.
---
Making the Work Possible
In honor of the organization's 25th anniversary, Teaching for Change supporters are hosting house parties to raise funds and spread the word about the work. Five parties were held this fall, and more events are in the works for the spring. The parties each featured an activity, such as a "meet and greet" role play activity or a film clip, to provide attendees with a hands-on experience of our work.
Our board members encouraged their friends to donate online, including a campaign for our Teach the Beat program that brings go-go into the classroom.
The Morris and Gwendolyn Cafritz Foundation and the W.K. Kellogg Foundation continued to offer vital support for our Tellin' Stories Project; Kellogg is also funding the teacher fellowship program in Mississippi. A first time grant from the Open Society Foundation allowed us to hire a communications coordinator. We received donations from the Ben's Chili Bowl Foundation, the Combined Federal Campaign, and close to 400 individuals. (We will acknowledge the 2015 donors online, unless anonymous, in early 2016.) Our Zinn Education Project was selected for funding on the CREDO Donations ballot. (Full list of foundations.)
---
In Memory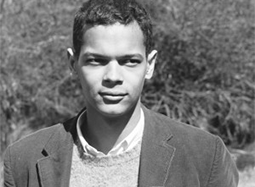 In 2015, many people who fought for freedom and informed our work, passed away. These include Grace Lee Boggs, Julian Bond, Rick Cohen, Eduardo Galeano, Dr. Cliff Kuhn, Dr. Robert B. Hayling, George Houser, Silas Norman, Amelia Boynton Robinson, John Trudell, and Haskell Wexler.
There are also countless people who died young at the hands of police brutality or in one of the many wars we are waging overseas.
We will continue to walk in all of their footsteps to create a world with peace and justice.
---

---
Posted: December 17, 2015